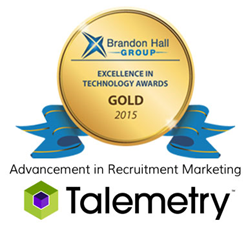 Our award winners are the most visionary and innovative developers of HCM technology solutions that move organizations forward in serving employees, customers, and investors.
Vancouver, BC (PRWEB) December 09, 2015
Talemetry, award-winning provider of high performance recruitment marketing software, announced it has been recognized with the Brandon Hall Group Gold Award for Excellence in Recruitment Marketing Technology.
Talemetry's award was announced during an event on December 3, 2015. The complete list of winners across all categories can be found here.
A panel of veteran, independent, senior industry experts, and Brandon Hall Group senior analysts and executives evaluated the entries based upon the following criteria:

Product: What was the product's breakthrough innovation?
Unique differentiators: What makes the product unique and how does it differ from any competing products?
Value proposition: What problem does the product solve and/or what need does this product address?
Measurable results: What are the benefits customers can expect to experience as a result of using this product?
Talemetry was chosen as the single Gold Award winner across the entire recruitment marketing innovation category.
"Our award winners are the most visionary and innovative developers of HCM technology solutions that move organizations forward in serving employees, customers, and investors," said Brandon Hall Group Chief Operating Officer Rachel Cooke, who runs the awards program. "I think everyone can learn from the achievements of our award recipients."
"These award-winning solutions were closely evaluated by our judges for not only their innovation, but the real results they brought to the organizations," Brandon Hall Group Chief Executive Officer Mike Cooke said. "That is what makes our technology awards program special – connecting creativity and innovation to direct business results."
The Talemetry recruitment marketing platform integrates with an organization's existing ATS to enable and optimize pre-applicant candidate attraction, sourcing, engagement, and candidate experience. The platform includes:

Candidate Attraction Solutions (job board, social network, digital advertising, and agency job distribution)
Candidate Sourcing and Engagement Solutions (federated search and sourcing, talent networks, candidate campaigning)
Candidate Experience Solutions (targeted mobile/social career sites, integrated mobile/social online applications)
Optimized Recruitment Operations (unsurpassed analytics for tracking recruiting results and optimizing performance)
About Brandon Hall Group, Inc.
With more than 10,000 clients globally and 20 years of delivering world class research and advisory services, Brandon Hall Group is the most well-known and established research organization in the performance improvement industry. BHG conducts research that drives performance, and provides strategic insights for executives and practitioners responsible for growth and business results. Brandon Hall Group has an extensive repository of thought leadership, research, and expertise in Learning and Development, Talent Management, Leadership Development, Talent Acquisition, and Human Resources. At the core of BHG's offerings is a Membership Program that empowers excellence through content collaboration.
About Talemetry
Talemetry® works with your applicant tracking system enabling you to get more of the right candidates to apply for jobs using all recruitment marketing and sourcing channels and activities on a single powerful technology platform.
The Talemetry suite helps large organizations automatically distribute jobs, search and source candidates, build talent pipelines, engage candidates with full CRM, provide rich social and mobile candidate experiences, integrate external recruiters, manage all recruiting vendors, and measure and optimize their recruitment operations.
Talemetry, Inc. has been helping hundreds of employers improve candidate experiences, optimize recruiter efficiency, control costs, and get maximum visibility into what works and what doesn't since 2000. To learn more, visit http://talemetry.com or follow @Talemetry.