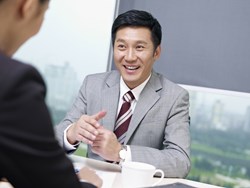 "I heartily endorse Mr Koh for his ability to organize, communicate and guide employees in their training needs. Additionally, he has been a valuable partner in discussions about organisational development and talent management."
Singapore (PRWEB) October 30, 2013
Talent Management is a term mostly heard among the multi-national companies (MNCs) in Singapore. It refers to the science of using strategic employee engagement and employee retention to improve business value and to make it possible for companies and organizations to reach their goals.
For over a decade, it has usually been MNCs that have been able to afford the entire talent management process which is usually costly and human resource intensive.
However, newly founded company, Talent Continuity Pte Ltd, saw the opportunity to provide talent management for small and medium enterprises in Singapore.
According to Talent Continuity Founder and CEO, Mr David Koh, with the company's unique three step process, employee engagement, nurturing and retention rate can increase from 33% to over 85%, thus increasing the profit for companies in the long term.
He firmly believes that while Talent Management used to belong to the MNCs, these days small and medium companies can benefit from it as well.
The first step of the Talent Continuity three step process starts with Employee Engagement or Selection.
Talent Continuity uses one of the top personality tests, the Harrison Assessment (HA), to help a company to select the appropriate employee for a job, one who is in line with the company's culture and work environment.
The candidate simply needs to go online and fill in a simple 20 minute questionnaire, and Mr Koh will be able to generate a detailed personality test report outlining 46 character and personality traits.
Miss Choo Lee Lian, Director and Co-founder of CLS International Marketing Pte Ltd was unsure when Talent Continuity approached her for the test and the first thought that crossed her mind was, "Is this another DISC personality test or one that I've I tried before?"
After the test, however, Miss Choo was impressed. "Harrison Assessment's online questionnaire is user-friendly and the questions are direct and simple and I never expected the report to be so extensive and detailed. It allows me to see a clearer picture of my past self and the way I interacted with my colleagues under different circumstances and it also demonstrates how I gather information to make important business decisions. I would rate the Harrison Assessment personality test 8.5 out of 10.."
By using the DISC personality test and Harrison Assessment (HA), Mr Koh, has successfully profiled and mentored more than 106 executives over the past five years. With this extensive experience, he would highly recommend HA to most of his clients.
With this first step in place, the second step of the process is Employee Nurturing, followed by Employee Retention.
Employee nurturing involves many hours of one-on-one personal and small group coaching with company employees. Mr Koh will work personally with a small business owner to gain a solid understanding of a company's business direction and organizational objectives before involving the employees.
Daniel Steele, Senior Director at Global Foundries says, "I heartily endorse Mr Koh for his ability to organize, communicate and guide employees in their training needs. Additionally, he has been a valuable partner in discussions about organisational development and talent management."
About Talent Continuity
Talent Continuity is in the people business. The most important asset of our company is PEOPLE. The company is spearheaded by founder and CEO, Mr David Koh, who has over 20 years' experience in engineering, manufacturing, sales & marketing and learning and organisational development. An experienced program developer of the Talent Management & Succession Planning program in the semiconductor industry, Mr Koh has developed more than 106 managers, and many of those he has worked with have gone on to hold key high management positions within and outside their companies. He is also accredited in the application of the DISC personality test and Harrison Assessment profiling system. For more information, please visit: http://www.TalentContinuity.com