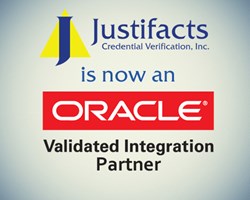 Our first goal was to be able to readily offer a repeatable Oracle Taleo Business Edition Cloud Service integration to our current and future clients. - Douglas Beckett
Pittsburgh, PA (PRWEB) November 19, 2013
Justifacts Credential Verification, a (Gold) member of Oracle PartnerNetwork (OPN), today announced it has achieved Oracle Validated Integration of Justiweb with Oracle Taleo Business Edition Cloud Service, part of Oracle HCM Cloud. This integration can offer employers superior background checks in a format they rely on. To achieve Oracle Validated Integration, Oracle partners are required to meet a stringent set of requirements that are based on the needs and priorities of the customers. The integration enables users to submit orders, provide needed information, make decisions during the screening process, and view result data.
According to Chief Technology Officer Douglas Beckett, "In recent months, Justifacts has been working diligently to establish an expanded network of ATS integration relationships. Our first goal was to be able to readily offer a repeatable Oracle Taleo Business Edition Cloud Service integration to our current and future clients. Achieving Oracle Validated Integration accomplishes this goal. Secondly, beyond just simply having the basic integration in place, we understood that each company has different needs along with their own specific on boarding processes. For this reason, my team developed customizable integration solutions to ensure that Justifacts has the capability to adapt our system to meet and, as much as possible, exceed our clients' expectations," concluded Beckett.
"Achieving Oracle Validated Integration gives our customers confidence that the integration between Justiweb and Oracle Taleo Business Edition Cloud Service is functionally sound and performs as tested," said Kevin O'Brien, senior director, ISV and SaaS Strategy, Oracle. "For solutions deployed on-premise, in the cloud, or both, Oracle Validated Integration applies a rigorous technical review and test process that helps to reduce deployment risk and improves the user experience of the partner's integrated offering."
--About Justifacts--
Justifacts is a full-service background-screening company that provides more than 100 background search options, including: Criminal Background Checks, Social Security Number Verifications, Employment Verifications, Professional and Personal References, Education Confirmations, Motor Vehicle Record Checks, Credit Histories, Drug Testing, as well as many other offerings pertaining to employment background screenings. For the past 30 years we have focused exclusively on providing one of the best background checks available, while offering a high level of customer service. Over the years, Justifacts has helped pioneer an industry whose services have become a requisite for every organization desiring to hire the very best candidates and minimize the risk of negligent hiring lawsuits.
Founded in 1982, Justifacts Credential Verification provides global background check services for our clients' pre-employment verifications. We are committed to providing an ideal, cost-effective product that is efficient in turn-around time while maintaining a high level of customer service in order to meet and exceed our clients' needs in their pre-employment screening and throughout their hiring process. Justifacts offers over 100 different screening searches such as employment verifications, background checks and degree verifications to organizations ranging from small businesses to Fortune 500 companies worldwide. To learn more, go to http://www.Justifacts.com.
--About Oracle Validated Integration--
Oracle Validated Integration, available through the Oracle PartnerNetwork (OPN), gives customers confidence that the integration of complementary partner software products with Oracle Applications and specific Oracle Fusion Middleware solutions have been validated, and the products work together as designed. This can help customers reduce risk, improve system implementation cycles, and provide for smoother upgrades and simpler maintenance. Oracle Validated Integration applies a rigorous technical process to review partner integrations. Partners who have successfully completed the program are authorized to use the "Oracle Validated Integration" logo. For more information, please visit Oracle.com at http://www.oracle.com/us/partnerships/solutions/index.html.
--About Oracle PartnerNetwork--
Oracle PartnerNetwork (OPN) Specialized is the latest version of Oracle's partner program that provides partners with tools to better develop, sell and implement Oracle solutions. OPN Specialized offers resources to train and support specialized knowledge of Oracle products and solutions and has evolved to recognize Oracle's growing product portfolio, partner base and business opportunity. Key to the latest enhancements to OPN is the ability for partners to differentiate through Specializations. Specializations are achieved through competency development, business results, expertise and proven success. To find out more visit http://www.oracle.com/partners.
###
Trademarks
Oracle and Java are registered trademarks of Oracle and/or its affiliates.