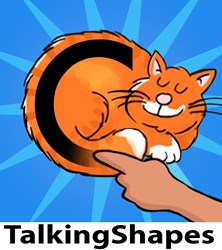 "Jeannine is one of the few scientists who can translate complex research findings into effective instructional solutions for kids."
San Rafael, CA (PRWEB) October 17, 2013
Speech-to-print instruction for early reading is not a new idea in the world of teaching children. Maria Montessori was using this approach many years ago. But it took neuroscience to prove her right. Enter Jeannine Herron, Ph.D.
In her new iPad apps, Talking Shapes, children in preschool and kindergarten learn that letters are "talking shapes" that stand for speech sounds. Parents can launch their children on the path to becoming lifetime writers and readers by teaching them that the words they already know how to say can be turned into words they see!
Noted neuropsychologist, Dr. Jeannine Herron, has applied the most recent research on how young brains learn, to create wonderfully interactive stories about how two sisters invented the alphabet "long, long ago". Letters are embedded in pictures that help children remember both the sound and shape of each letter.
Benefits:
Children acquire the necessary tools for efficient reading and writing. The alphabet makes more sense to children if they understand from the very beginning that words they say are made of different sounds and that they can construct words by assembling or drawing the letters that stand for those sounds.

children learn that spoken words are made of individual sounds (phoneme awareness).
children learn that letters stand for those sounds (phonics).
children learn how to draw those letters.
children learn how to sound-out and write 3-letter words.
Talking Shapes has been developed, in part, with a research grant from the National Institute of Child Health and Human Development (NICHD). "Jeannine is one of the few scientists who can translate complex research findings into effective instructional solutions for kids," says G. Reid Lyon, Ph.D., former Chief of the Child Development and Behavior Branch within the NICHD. Independent research has shown significant improvement in preschoolers' skills after using Talking Shapes.
"Struggling readers", according to Dr. Herron, "activate their right brains to read, but skilled readers use the left brain. By speaking the words first and sounding them out, children activate and build pathways in the left brain, where new, crucial links to visual words need to take place."
Talking Shapes stories introduce all 40 speech sounds (phonemes) in English and the letters that stand for those sounds. Each story adds six new phonemes to the list and is accompanied by games that help children sound-out and build three-letter words, drawing the letters as they play. A reading game helps them decode and recognize the words they have spelled. For children in preschool to kindergarten, the set is unique in providing systematic incremental instruction, like a curriculum, that can be used by parents or teachers to help children develop new skills at their own pace. They can practice as much as they like before they move to the next story. With replay, new targets appear and each set of sound-letter associations becomes more and more automatic.
Talking Shapes stories are packaged in three apps. App One contains three books: The Fat Cat, The Silly Hen and The Dancing Pig. These books, together, teach 17 letters and 18 phonemes. At the end of The Dancing Pig, children should be able to sound-out, spell and read at least 30 words. The set of 3 books in App One sell for $5.99. Apps Two and Three are in development and will be released when completed.
Talking Shapes stories are available in the iTunes App Store, at: https://itunes.apple.com/us/app/talking-shapes/id714047485?ls=1&mt=8.
About Talking Fingers and Dr. Jeannine Herron:
Jeannine Herron is a research neuropsychologist who became interested in reading-related research in 1965 when she was co-founder and program director of the first Head-Start program in the nation—the Child Development Group of Mississippi, serving 5,000 children. She received her PhD. from Tulane Medical School and went on to do extensive neuroscience research in brain organization and dyslexia at the University of California San Francisco.
For the past 25 years, Dr. Herron and her company, Talking Fingers, have designed, developed and researched early reading and spelling software, Read, Write & Type (for grades K-2) and Wordy Qwerty (for grades 2-4), with three grants from the National Institute of Child Health and Human Development (NICHD). Voice-over help in nine languages makes Read, Write & Type an easily accessed online product for learning English literacy. Another grant from NICHD funded a collaboration on a product called SmartCycle, licensed to Fisher-Price, which became their "Toy of the Year" in 2008.