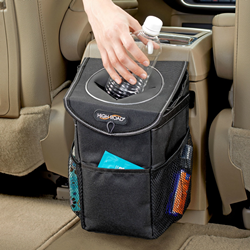 "We're a small company creating original designs, but it's a constant fight to keep copycats from offering cheap imitations." David McClees
PORTLAND, Maine (PRWEB) March 04, 2019
The New StashAway car trash bags include a flexible 'StuffTop', so that trash can be pushed inside while the lid stays closed, keeping odors in and the outside neat and tidy. Three StashAway variations fit behind the console, on the car floor or on the seatback.
The family of StashAway car trash organizers is covered by three patents, the newly issued D820,595 and D825,436 and D751,262.
Popular on Amazon as well as other online platforms, copycat products rapidly appeared after initial introduction, imitating High Road's design. After multiple complaints to leading online sellers, 94 duplicate products have been removed. Talus, owner of the High Road brand, finds that vigorous enforcement is the only effective deterrent. Says Talus president David McClees, "Too many people piggyback. We're a small company creating original designs, but it's a constant fight to keep copycats from offering cheap imitations."
High Road pioneered the car organizer industry since 1990 and is part of Talus, a Maine firm committed to original, problem-solving and well designed products that make travel more comfortable, secure and convenient.