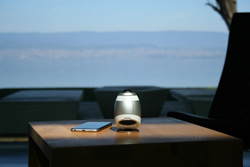 Tamaggo is bringing people back together in a digital world by sharing everything in your experience - not just yourself. - Rodolphe Droin, Chairman of Tamaggo
(GENEVA, SWITZERLAND) 7, September, 2017 (PRWEB) September 07, 2017
Tamaggo 360LiveCam is now available to purchase on Tamaggo.com, just in time to get on those holiday wish lists! With its sleek egg-shaped design that fits ergonomically in one hand and reflects the name of the company ("Tamaggo" means egg in Japanese), Tamaggo 360LiveCam delivers unsurpassed image quality and is the only 360° camera with an intuitive touchscreen interface. With its simple one-click 360° photo and video capture, Tamaggo 360LiveCam is the best value for those who want to truly and immersively share their life in real-time with family or friends, or build more interactive social communities.
"Tech today is very isolating - people are ego-oriented, taking selfies and only sharing and showing themselves," commented Rodolphe Droin, Chairman of Tamaggo. "Tamaggo is bringing people back together in a digital world by sharing everything in your experience - not just yourself. This has the potential to cause a big shift in behavior, and we are taking a leadership role in educating consumers about the new 360° paradigm. This is what excites our team the most."
"Tamaggo's mission is to create life-changing experiences that connect people, so we set out to make our camera as simple to use as possible," said Frederique Huillet, COO of Tamaggo. "Both the camera and the mobile app were built to deliver on the functionality and technical specifications of a great user experience: ease-of-use, live features, image quality and touch screen control. With Tamaggo 360LiveCam, anyone can feel like they are with you in an immersive way, at any time, wherever you are."
Tamaggo 360LiveCam Makes Music Come to Life
In July, Tamaggo captured the 'Boys Of Summer' U.S. Tour live with 360° footage of singer/musician Mackenzie Sol in Los Angeles, Orlando and New York. Sol was the only artist on the tour to be recorded in 360° and the content was shared with more than 1M fans on both Facebook and Musical.ly. Sol is a recording artist for The Hana Road Music Group, a trademark of an artist-centric, full-service, independent music company based in Montreux, Switzerland.
"As you can see from the Orlando and New York videos, the viewer is totally immersed in the artist's performance when captured in 360°," added Droin. "With the Tamaggo 360LiveCam, viewers get access to entertainment that they would not have had access to before. Further, viewers can truly get to the heart and soul of the performance, feeling the emotion as if they were standing next to the performer(s). We intend to continue working with artists in this way and we are excited to see how they will use Tamaggo 360LiveCam to change the way they engage with their online and social fan base."
Tamaggo 360LiveCam Makes Art Accessible to Anyone
Through its unique image quality and one-touch live streaming function, Tamaggo 360LiveCam renders all the emotion of a moment. This is what convinced Dimitri Chamblas, dancer, choreographer and recently appointed Dean of the School of Dance at the California Institute of the Arts, to become Tamaggo's Artistic Director. He is in charge of an ambitious event calendar that uses Tamaggo 360LiveCam to capture and live stream on Tamaggo.com and social networks artistic performances in dance, music, fashion.
"The objective of this program is to make events accessible to a larger audience that may not have the chance to be physically there and capture these events from a new perspective," commented Chamblas. "For example, attending a concert from the pit of the orchestra is an experience that very few people get the chance to live, but can now feel as if they are there by viewing the live stream in 360°."
Highest Quality Image Capture
Tamaggo 360LiveCam single lens makes capturing and sharing easy by removing the editing and post production process that most 360° cameras require. This lens, which reproduces human sight, was designed exclusively for Tamaggo in partnership with ImmerVision, the worldwide expert in 360° lens. It based on a patented panomorph distribution of pixels that enables a homogeneous high-quality image without distortion, even on the edges and in low light. Further, the Tamaggo 360LiveCam includes patented ImmerVision Enables 2.0 embedding of orientation data in each frame of view to provide a stabilized viewing experience no matter the position of the camera.
Companion App for iOS and Android
Tamaggo 360LiveCam's 360° photos and videos are easily captured, viewed, managed and shared through the Tamaggo companion app available for free for iOS and Android smartphones and tablets. The app is designed to make immersive content seamlessly shareable with any device and on social networks. The app also features a "discovery" section, where users can get inspiration from content created and shared by other Tamaggo users.
Pricing and Distribution
Tamaggo is now available for purchase online at http://www.tamaggo.com at the manufacturer suggested retail price of $399. Beginning this month, Tamaggo will also be available both online and in-store at Colette, the French high fashion, streetwear and accessory retailer that has been an institution in Paris for more than 20 years. Tamaggo's artistic director, Dimitri Chamblas, is organizing a special dance performance to celebrate the launch of Tamaggo's collaboration with Colette at the Paris store.
Product Specifications:
Colors: Titanium or White Pearl
Sensor: Sony 12MP
Aperture: f= 2.2
Field of view: 360°x220°
Photo resolution: 4K
Video resolution: HD
Display: Resistive touch screen 1.5″, image preview
Orientation and stabilization: Gyroscope, accelerometer, compass
Mass storage: Micro-SD/SDHC/SDXC
Battery type: 1500mAh battery, up to 2 hours of video
Video encoding: MP4 H.264
Connector: Micro USB
Bluetooth: BLE 4.0 used for phone pairing
WiFi: IEEE 802.11 a/b/g/n
Dimensions: 9.5 x 5.8 x 5.5 cm (HxLxl)
Resources:
About Tamaggo
Tamaggo Enterprises SA is a privately held company, with the mission of re-connecting people by creating life-changing experiences. The company is building a premium, differentiated brand of technology products and services with an innovative 360° imaging device. The company uses the paradigms of imaging to propose a new angle for consumers to share who they are and what they live. For more information visit