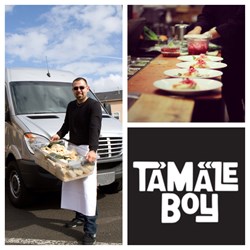 Tamale Boy offers a delicious, healthy and affordable alternative to the usual Mexican fare. With plenty of vegetarian and vegan options, our menu features ingredients from the best local Northwest produce and meats.
Portland, Ore. (PRWEB) February 18, 2014
Portland's favorite comfort food has been served from a truck for the past three years. Tamale Boy is committed to serving great food at affordable prices and is setting a foundation with a new brick and mortar restaurant to bring hungry Portlanders authentic Mexican street food with a local flair.
The new Tamale Boy location at 1764 NE Dekum Street, in the up-and-coming Woodlawn neighborhood, will offer intimate indoor and outdoor seating spaces for up to 184 customers, and one of the largest outdoor patios, with a quick ordering window, in the Portland area. A full bar accompanies an expanded menu that is perfectly suited for relaxed meals, tapas and happy hours around the cozy fire pits.
Tamale Boy's gluten-free, dairy-free, and GMO-free tamales bring farm to table, utilizing organic, locally sourced ingredients, and a family recipe and techniques that have been passed down through the generations. In fact, the tamales are still hand made by the owner Tia Mari. Customers can continue to find the food truck around town, but now have the convenience of a storefront.
"The new restaurant is a place where we can make the tamales and be a consistent location for customers to find us," says Jaime Soltero Jr., owner of Tamale Boy. "It is an honor to share the authentic flavors of my family's recipe with our patrons and we look forward to serving them in our new location."
One of the many unique elements of the property, designed by Skylab Architecture of Portland, Oregon, depicts the Mayan goddess, Mayahuel by Los Angeles visual artist Steven Lopez. Steven has participated in artistic collaborations with musical greats such as Chaka Kahn, Sade Adu, Aretha Franklin, India Arie, Jill Scott and his first inspiration into the After Midnight Series, Erykah Badu.
Lopez's painterly works are engineered explorations of angular figurative storytelling. Combining both an organic and mechanical curiosity to imperfection, and harnessing the power of association, Lopez's paintings capture the energy, harmonics and power of vulnerability. At times suggesting geometric surreptitious reality or a portal to eden, the body of work whispers at converging myths unwrapped through shapes of graceful conscious vignettes.
"Working on a mural like this makes me realize that I'm continuing the creative flow that my ancestors set forth," explains Lopez. "I've done my best to stay close to principal, meanwhile embellishing my style onto the story. I feel very proud to pursue this artistic task."
In Spring 2014, Tamale Boy's outdoor spaces will host guests in unique seating arrangements featuring custom painted cinder block privacy walls, intimate areas with private fire pits, a floating outside bar, and guest entertainment including outdoor video walls and lawn games.
About Tamale Boy:
Tamale Boy began as a catering company in 2011 called Mayahuel Catering. People had a hard time remembering the name of the company, but always remembered the tamales. Customers began calling owner, Jaime Soltero, "Tamale Boy." The name stuck when the food truck portion of the business rolled out to busy intersections and outside businesses where a following of customers flourished. Great customer reviews led to Tamale Boy being voted "Best Dish of the Year 2012" by Yelp. With a philosophy to do well, the restaurant aims to be a fun and authentic alternative dining option that is affordable to everyone. The menu includes authentic GMO-free Oaxaqueños and norteños (banana leaf and corn husk wrapped) tamales with vegan, dairy-free, gluten-free and other dietary options. Learn more by visiting online at http://www.tamaleboy.com or in person at 1756 NE Dekum Street, Portland, OR.
Artist Steven Lopez, Bio:
Born in Los Angeles, Lopez was heavily influenced by hip hop culture and graffiti art. He is a painter of a new generation that has emerged from the wake of graffiti subculture and academia influence. While attending the University of Oregon Lopez studied under the guidance of master sculpture, Dora Natella and design theorist, Leon Johnson. Lopez absorbed attention to form associated with Natella's sculptures, subsequently refining his own visual and conceptual vocabulary that emerged through Johnson's courses on visual continuity.
In 2000, Lopez Received his B.A. in Fine Art. His work can be found in myriad of corporate and private art collections both in the United States and abroad. He currently lives and works in the City of Los Angeles. Visit http://ikeepmoving.com/ for more information about Steven Lopez.