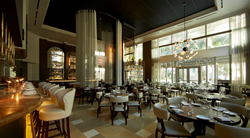 Chef Mora's appearances at the culinary events is part of Tamarina Restaurant's desire to be more involved in the community.
Miami Beach, FL (PRWEB) February 26, 2015
Chef Israel Mora, the Executive Chef at Tamarina Restaurant in Miami Beach, is pleased to announce that he was part of two popular local events in February. Chef Mora's appearances at the culinary events is part of Tamarina Restaurant's desire to be more involved in the community.
For example, on Thursday, February 19, Chef Mora appeared at the MasterCard Priceless Miami Preview. The "Italian Al Fresco Feast on the Beach" was hosted by Debi Mazar and Gabriele Corcos and helped to celebrate Ronzoni's 100th birthday. Chef Mora was one of 30 chefs who prepared delicious food that guests enjoyed on the beautiful sand right behind the Delano Hotel; guests enjoyed feasting on his Spinach and Ricotta Ravioli topped with a Sage Butter Sauce. From pastas served with white or red sauce to scrumptious broccoli rabe or specialty pastas, the event featured a mouth watering selection of Italian-American dishes.
Chef Mora also participated in the Oyster Bash, held on Friday, February 20 at Lure Fishbar at the Loews Miami Beach Hotel. The happy hour event was hosted by Ming Tsai and Lure Fishbar's Josh Capon. Along with other oyster experts, Chef Mora enjoyed creating memorable oyster themed dishes—he prepared his Oyster Fritti with Salso Crudo—that attendees enjoyed along with a variety of tasty wines.
Oysters are a subject that is near and dear to Chef Mora's heart; in addition to his appearance at the February event, he also wrote a blog for Tamarina Restaurant's website about the different types of oysters that are available and how to order them like a pro.
"When you don't have a ton of experience with oysters, it's better to start with the milder oyster, rather than a powerful and strongly-flavored one," Chef Mora said, adding that Kumamoto oysters as well as West Coast oysters are good choices for beginners.
Chef Mora said he is glad that Tamarina Restaurant is making an effort to be more involved in the local community, and that he hopes he can take part in similar events in the future.
About Tamarina Restaurant:
Tamarina Restaurant is located in the middle of downtown Miami and can be contacted at (305) 579-1888. The restaurant offers more than just fine dining; it also caters to the after-work crowd and business minded people that are looking for a sophisticated breakfast, lunch, dinner and happy hour. For more information, please visit http://www.tamarinarestaurants.com.