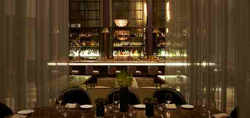 Whether it's branzino straight from Italy or the morning's fresh, local snapper, Tamarina selects the highest quality, seasonal ingredients and prepares them simply, allowing the natural flavors to speak for themselves
Miami, FL (PRWEB) January 27, 2015
The founders of Tamarina, a Miami restaurant that is known for its memorable meals and outstanding cuisine, are excited to announce their upcoming Valentine's Day menu. The entire menu is devoted to the concept of sharing, which is a perfect theme for a day devoted to love.
The primary offering on February 14 will be served a la carte, which means couples can order any of the special dishes that they wish and share them. The second offering will be a prix fixe meal. No matter which meal couples choose, they are sure to enjoy a romantic and delicious dinner filled with incredible and gourmet selections filled with amazing flavor.
For example, couples can start out their Valentine's Day dinner with an amuse bouche, followed by tuna crudo with pomegranate and jalapeno, wild mushrooms risotto and a choice of either branzino with sunchoke puree, artichokes, and Swiss chard, or an 8-ounce filet mignon topped with truffle leeks and homemade sundried tomatoes.
For dessert, couples are sure to enjoy sharing a heart-shaped panacotta or chocolate fondant with vanilla and strawberry, petit fours and coffee. The four-course meal is priced at $150 per couple or $180 with an added bottle of Prosecco.
Ever since husband and wife duo Tunu and Yona Puri teamed up with restaurateur Arjun Waney to open Tamarina, the restaurant has earned a well-deserved reputation for its delicious coastal Italian cuisine.
"Whether it's branzino straight from Italy or the morning's fresh, local snapper, Tamarina selects the highest quality, seasonal ingredients and prepares them simply, allowing the natural flavors to speak for themselves," noted a spokesperson for the restaurant, adding that the Crudo Bar and al fresco Champagne Bar are also extremely popular with diners.
About Tamarina Restaurant:
Tamarina Restaurant is located in the middle of downtown Miami and can be contacted at (305) 579-1888. The restaurant offers more than just fine dining; it also caters to the after-work crowd and business minded people that are looking for a sophisticated breakfast, lunch, dinner. Tamarina Restaurant also has focus a on happy hour for the after-work crowd that are getting off of work in downtown Miami. For more information, please visit http://www.tamarinarestaurants.com
Tamarina Restaurant
600 Brickell Avenue
Miami, FL 33131