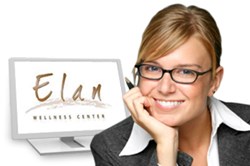 New Back Pain Relief Protocols Now Available at Tampa Chiropractic Clinic
Tampa, Florida (PRWEB) September 18, 2013
As the world of chiropractic medicine advances, Elan Wellness remains on the cutting edge of new techniques and protocols for treating many different types of ailments. The center's professional trained staff and Dr. Christine Rogers keep abreast of all the new developments, not only in the world of chiropractic techniques and practices, but in the practices of massage therapy, holistic treatments, and other related fields of both preventative as well as post medical treatments.
"Chiropractors use hands-on spinal manipulation and other alternative treatments, the theory being that proper alignment of the body's musculoskeletal structure, particularly the spine, will enable the body to heal itself without surgery or medication. Manipulation is used to restore mobility to joints restricted by tissue injury caused by a traumatic event, such as falling, or repetitive stress, such as sitting without proper back support," according to WebMD.com.
Elan Wellness Center understands that its patients benefit most when health care providers explore all available avenues. Due to this knowledge, the Tampa chiropractor devotes itself to the guiding principle that a well-informed patient is a much happier, more satisfied patient.
Dr. Rogers and her staff agree that by educating each of their patients on the principles of chiropractic care, massage therapy, holistic techniques, as well as other healing and preventative approaches, their patients tend to suffer less pain and recover quicker from injuries.
People in the Tampa Bay area with chronic back, neck, joint, or other pain can significantly benefit from chiropractic care and massage therapy. The premise behind chiropractic medicine is that not all ailments can be treated with pharmacological treatments. Elan Wellness Center states that there are more benefits to forgoing pharmacological protocols because often, patients who take medicine are only masking or suppressing their symptoms rather than actually treating those symptoms.
Chiropractic medicine seeks to get to the root cause of the pain and address it at the source level, thereby making it far more effective in immediacy as well as longer lasting than any pharmacological treatment. Dr. Rogers makes the point that chiropractic is at its heart holistic, which the natural body responds to best.
For more information about this Tampa chiropractic practice, please visit Elan Wellness Center at 11329 Countryway Blvd, Tampa, FL 33626, or phone (813) 855 - 0001 to make an appointment with Dr. Christine Rogers. Information about the clinic and its chiropractor treatments is also available online at http://www.elanwellnesscenter.com.