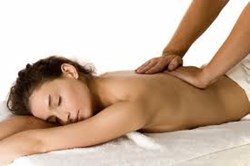 Tampa's Own Personal Injury Chiropractor, Dr. Christine Rogers, Now Offers the Latest Chiropractic Treatment Options at Elan Wellness Center
Tampa, FL (PRWEB) August 27, 2013
Dr. Rogers, a personal injury chiropractor practicing in Tampa states that she and her staff have the most up-to-date education and resources to help individuals that are suffering from injuries, such as whiplash, to recover faster, and with less discomfort.
"Whiplash is one of the most common auto injuries and entails damage to the soft tissues of the neck. Many people think whiplash only occurs in high speed or potentially fatal accidents. However, whiplash can occur from accidents as slow as 5 mph. The symptoms may present themselves a few days or even weeks after the injury, yet waiting until the onset of symptoms to receive treatment can greatly interfere the speed and ease of your recovery," explains Dr. Goldsworthy, a personal injury chiropractor.
Elan Wellness Center states that most people are unaware of the benefits of being treated by an experienced personal injury chiropractor. Many people suffer from various symptoms and may not know such symptoms are more than just pain arising from an auto accident or other trauma.
"The most common symptoms of whiplash are pain and stiffness in the neck. These symptoms are generally found in the areas that are 'whiplashed'. For example, during a whiplash, first the head is lifted up from the upper-cervical spine. This creates a sprain/strain in the region just below the skull, where symptoms usually occur. Symptoms may also commonly be seen in the front and back of the neck. Turning the head often makes the pain and discomfort worse," according to the American Chiropractic Association.
Dr. Rogers states that it's not uncommon to see a new patient who complains about certain areas and levels of pain in the neck, back, as well as in the hips and joints that arises from things like whiplash. The esteemed Tampa chiropractor also points out that many people suffer unnecessarily for months, even years.
Elan Wellness Center, the Tampa chiropractor practice adds that by seeking treatment as the symptoms manifest and become more pronounced, it is easier to become pain free in a quicker amount of time. Because chiropractic care is holistic, most patients see near immediate results.
For more information about Dr. Rogers and her chiropractic clinic, please visit Elan Wellness Center at 11329 Countryway Blvd, Tampa, FL 33626, or phone (813) 855 - 0001 to make an appointment with Dr. Christine Rogers. Information about the clinic and its personal injury chiropractor services is also available online at Elan Wellness Center.com.