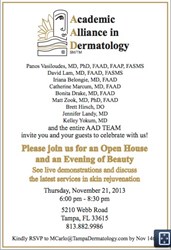 'This is a rare and special opportunity for individuals to meet with our physician staff.' - Michelle Carlo - www.TampaDermatology.com
Tampa Florida (PRWEB) October 31, 2013
Interested in maintaining, restoring or enhancing appearance? Mark the calendar for this event! The Academic Alliance in Dermatology in Tampa is hosting an Evening of Beauty and Dr. Panos Vailoudes, MD and his entire staff of physicians from all of the TampaDermatology.com Tampa Bay area dermatological services locations will be on hand. The event is open to the public but it is strongly recommended that you RSVP to secure a place at this special event. Event to be held on Thursday November 21, 2013 from 6:00 to 8:00 pm at 5210 Webb Road Tampa, Florida 33615. Please RSVP MCarlo(at)TampaDermatology(dot)com by Nov 14th as availability is limited.
Doctors and Clinical Staff in attendance at the Evening of Beauty Event:
Panos Vasiloudes, MD, PhD, FAAD, FAAP, FASMS
David Lam, MD, FAAD, FASMS
Iriana Belongie, MD, FAAD
Catherine Marcum, MD, FAAD
Bonita Drake, MD, FAAD
Matt Zook, MD, PhD, FAAD
Brett Hirsch, DO
Jennifer Landy, MD
Kelley Yokum, MD
This event is designed to bring together doctors, patients and parties interested in learning about the advanced equipment, products and treatment options available from the various locations of The Academic Alliance in Dermatology Tampa Bay area network. Academic Alliance in Dermatology offers the following services across it's 8 Tampa Bay Area locations. MOHS surgery & skin cancer, dermatopathology, hair restoration, cosmetic dermatology, and clinical research.
About us:
Academic Alliance in Dermatologoy
http://www.tampadermatology.com
Cosmetic Dermatology Specialists
Academic Alliance in Dermatology is an industry leader in Cosmetic and Clinical Dermatology. Our offices focus on advanced cosmetic dermatology techniques where our skilled dermatologists can minimize the signs of aging, reverse sun damage, remove common skin flaws, improve skin appearance and treat disfiguring skin conditions. We can also remove unwanted hair through laser hair removal.
For a list of services, doctors, locations and more information please visit our dermatological services website.
###