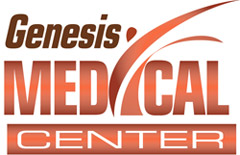 The back and neck pain treatment at Genesis Medical offers over 80% of patients a year or more of relief!
Tampa, Florida (PRWEB) August 10, 2015
Top Tampa pain management clinic, Genesis Medical Clinic, now offering revolutionary back and neck pain treatment. Radiofrequency ablation is performed by a Double Board Certified physician and often provides one to two years of exceptional relief. Call (813) 666-4399 for more information and scheduling.
With back and neck pain affecting over ninety percent of individuals at some point, it is crucial to have first rate treatments available that provide long term relief. Radiofrequency ablation has been one of the most revolutionary treatments in pain management in the 21st Century.
The RFA procedure is performed as an outpatient and is covered by insurance. Over eighty percent of patients receive more than a year of relief, and are able to decrease substantially the amount of pain medications necessary. Also, a lot of patients are able to get back to work and performing desired recreational activities.
The pain doctor at Genesis Medical, Dr. Renato Vesga, is highly trained and an expert in the procedure. With back and neck surgery entailing significant potential risks and questionable outcomes, the radiofrequency procedure has been a highly welcome addition at the practice and to patients in need. The procedure is outpatient, with relief being seen quickly.
Along with the RFA procedure, Genesis Medical provides over 20 different treatments for all types of pain conditions including sciatica, RSD, fibromyalgia, spinal stenosis, failed back surgery, migraines and arthritis to name a few. The practice accepts the vast majority of insurance plans, with appointments being readily available.
Call (813) 666-4399 for more information and scheduling with the top pain management Tampa trusts.