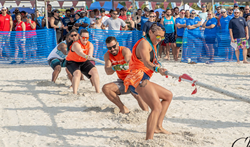 There's nothing better than seeing colleagues from a variety of industries bond in such a fun way
TAMPA, Fla. (PRWEB) March 15, 2023
Tampa Bay's IEL Corporate SportsFest, the Southeast's largest corporate sports competition is set to return to the Bilmar Beach Resort on Treasure Island, Saturday, April 22, 2023. SportsFest draws nearly 4,000 participants and spectators from Tampa Bay's business community vying for bragging rights in a series of team building competitions. The annual event also promotes employee camaraderie, networking opportunities, and brand visibility.
SportsFest showcases five different athletic beach events including, volleyball, tug-of-war, corn toss, the surf & turf relay, and dodgeball. With more than 100 teams already pre-registered for this year's event, there are a limited number of spots remaining. Company organizers can register their teams at SportsFest.com. Click here for schedule of events.
"There's nothing better than seeing colleagues from a variety of industries bond in such a fun way," said Dave Baughman, Founder & Executive Director of Corporate SportsFest. "The feedback we get is always so positive it motivates us to get bigger and better each year."
Where: Bilmar Beach Resort 10650 Gulf Blvd. Treasure Island, Florida
When: April 22, 2023
Opening Ceremonies: 9:00 AM
Preliminary Competition: 9:30 AM – 1:30 PM
Championship Rounds: 1:30 – 3:30 PM
About Corporate SportsFest: For nearly 40 years, Corporate SportsFest has built its legacy around its mission and core values of being an annual wellness event that is tailored to various business communities with the goal of advancing corporate fitness and industrial recreation. The event's focus continues to promote co-ed engagement, while also aiming to strengthen team building activities, foster a fun environment, and encourage all-inclusive participation that does not require any level of athletic skill.