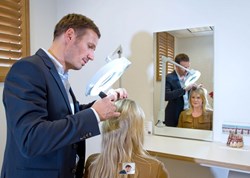 the unique treatment options and professional staff of TampaDermatology.com are among the best the world has to offer - Lars Skjoth (Scotch).
Tampa, FL (PRWEB) September 30, 2013
Lars Skjoth founder of HaarKlinikken moves to America to work with Tampa Dermatology team of Dr.s specializing in dermatological, cosmetic and hair restoration services. Lars states, "Harklinikken is an individualized, plant-based, topical hair loss treatment which patients may apply directly to their scalp every evening to help improve hair quality and caliber. The extract, in combination with specialized shampoos, is custom created to target each patient's individual needs." Having worked in Dubai, Germany and Denmark, Lars is excited to work with Dr. Vasiloudes MD and his staff of Tampa Dermatology and says, "the unique treatment options and professional staff are among the best the world has to offer." Lars a scientist in human nutrition and biochemistry jokes upon returning to the U.S that "…for a scientist and helicopter pilot one of the most challenging tasks coming to America was passing my drivers license exam!"
The Haarklinikken (Hair Clinic of Tampa) is located in suite 1 of shared office space of Tampa Dermatology, located at 4238 W Kennedy Blvd. Please see the hair loss portion of their website for more information on individual hair treatment services options. Haarklinikken offers an entire line of hair products as well as their powerful hair and scalp solution that is individually formulated to meet the needs of each patient.
Press Release part of internet presence management services by Image Forward
About Image Forward
Image Forward, an internet presence management company helps clients to drive revenue by leveraging and building audience engagement through the use of proprietary tools including an automated social content distribution system (if-Social), a review monitoring tool, custom WordPress blogging platform, custom client search directories, Facebook and Google PPC advertising, as well as YouTube video advertising. Based out of Tampa Florida and specializing in franchise marketing Image Forward provides turnkey Internet Presence Management Solutions to improve brand visibility by establishing a local search presence & publishing high value content to social portals.