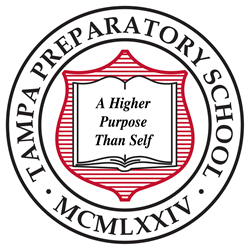 Through her research, Hannah has the ability to create real change in the health industry. It is the dedication that Hannah has shown that makes me proud to teach students at Tampa Prep. - Ginger Chapman, Hannah's Biology Teacher
Tampa, FL (PRWEB) April 23, 2014
Tampa Preparatory School (http://www.tampaprep.org) is proud to announce that freshman Hannah Keller received first place at the 59th Florida State Science and Engineering Fair in Lakeland. The project focused on the effect that radiation dose reductions can have on CT images. Her younger brother, who received multiple CT scans when he was younger, inspired her work. Keller aimed to find a way to minimize the amount of exposure in order to minimize the potential future long-term effects.
Hannah competed in the Senior Division of the Medicine and Health category. Other projects in this category included students looking at cures for lung cancer, Alzheimer's disease and Autism. Hannah won first place for the Senior Division Medicine and Health category, which carried with it a plaque and a cash prize. Additionally, she won the Donald J. Cram Scholarship from Rollins College.
"As Hannah's Biology teacher, I have been thoroughly impressed with the dedication and research that has gone into this project," said Tampa Prep Science teacher Ginger Chapman. "Through her research, Hannah has the ability to create real change in the health industry. It is the dedication that Hannah has shown that makes me proud to teach students at Tampa Prep."
Her project "A Comparison of the Effect of Radiation Dose Reduction on the Resolution and Diagnostic Acceptability of CT Images Using Adaptive Statistical Iterative Reconstruction (ASiR) on Various Parts of the Human Body" found that with the help of ASiR technology, the amount of radiation exposure to patients can be reduced by a greater percentage for the extremities than for the core body parts. Additionally, she concluded that the amount of radiation for the core body parts can also be reduced further than their existing process allows.
"This project resulted in a dose reduction of 20% for patients undergoing CT scanning at our institution," said Dr. Thomas Keller, Chairman of the Department of Radiology at the Holy Family Memorial Medical Center.
Keller conducted her investigation at the Holy Family Memorial Medical Center in Wisconsin, where CT scans were done on phantoms representing an adult male chest and foot, as well as a spatial resolution phantom.
About Tampa Prep
Tampa Preparatory School is leading the way in education with our focus on what's best for students. Our independent, coeducational college prep school enrolls more than 600 students in grades 6 - 12. For nearly 40 years, our educational philosophy has instilled values of fairness, decency, honor, diligence and academic curiosity. Students receive unparalleled instruction from caring teachers at the school's 150,000 square-foot complex located in the heart of downtown Tampa. Our vibrant school community offers a "preparation for life with a higher purpose than self" as students and faculty live our mission as a place to think, create, aspire to excellence and go beyond. Find out more at http://www.tampaprep.org.