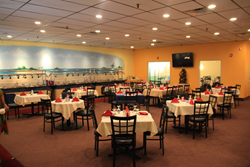 Rochester NY, Fairport NY, Buffalo NY (PRWEB) June 28, 2014
Indian food, which is both incredibly diverse and stunningly delicious, spans thousands of years and, even today, over one million square miles and thirty one states and territories, each who add to the country's divine culinary experience. These factors combine to make the region's food ever increasingly popular, especially the restaurants who serve the food with an emphasis on authenticity. In New York, Tandoor of India have established a reputation of doing exactly that, to the joy of their diners. After years of success at their Rochester flagship location, on June 11th Tandoor of India have opened their second location, in Fairport, NY and the response has been remarkable.
"We are very happy to open our second location," commented a spokesperson from the restaurant. "Serving the best Indian food, using fresh ingredients and skillful cooking is our passion and now being able to do this in two locations to better serve our guests is a dream come true."
The grand opening of the second location featured a ribbon cutting by Perinton Town Supervisor Michael Parker in a pleasant ceremony that had a good attendance from local food enthusiasts, politicians and members of the community.
The restaurant takes their name from the "Tandoor" an Indian vat-shaped clay oven that is heated with mesquite wood, charcoal or even natural gas. The oven produces extremely high temperatures sealing the succulent juices of various marinated meats keeping them moist tender and flavorful. It's one of the features that separates the region's cooking style from others and produces meat with a unique taste.
The chefs of Tandoor of India are also proud to use traditional herbs and spices, well regarded not only for their fine taste, but also for their health enhancing qualities.
Feedback has been passionate regarding the second location opening.
John M., from Fairport recently said, "This is a really amazing restaurant. I've had both the entrees and the buffet and both exceeded my expectations. Fully recommended!"
The new restaurant is located at 6720 Pittsford Palmyra rd., (Perinton Square Mall) Fairport, NY.
For more information visit http://tandoorofindia.com