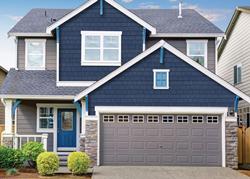 "This is the next level for TandoShake, taking our technology to Cape Cod Perfection to create authentic, rich colors applied to a popular, easy to install cladding profile," -- Toby Bostwick, Senior VP Business Development, Derby Building Products
QUEBEC CITY (PRWEB) March 27, 2019
TandoShake(R) Cape Cod Perfection, manufactured by Derby Building Products, which debuted at the International Builders Show (IBS) in Las Vegas last month features an aesthetically pleasing profile with crisp, square edges, proven resistance to extreme weather, and is available in five rich colors with the look of painted wood.
"This is the next level for TandoShake, taking our technology to Cape Cod Perfection to create authentic, rich colors applied to a popular, easy to install cladding profile," said Toby Bostwick, Senior VP Business Development, Derby Building Products. "Harsh weather and moisture are no match for Cape Cod Perfection's beauty and durability."
TandoShake's Cape Cod Perfection is a high-performance answer to today's common building challenges such as labor shortages, job site delays, and moisture management. Cape Cod Perfection will hold up far beyond a traditional wood shake in any kind of weather and can be confidently used for ground contact and roofline applications. It has the beauty of painted wood but without the hassles and upkeep.
Cape Cod Perfection features a 5" exposure, a subtle wood texture, and crisp edges for a look that is nearly identical to painted wood shakes. Cape Cod Perfection's variety of solid colors includes Classic White, Ashwood Gray, Slate Gray, Wheat, and on-trend Mariner Blue, a lifestyle shade popular in coastal design. The stylish colors will complement a wide range of exterior products and provide stunning results.
Like all TandoShake products, Cape Cod Perfection is easy to install because it is lightweight and comes in panels, not individual shakes that need to be nailed; and, because it won't split, an installer can use a pneumatic nail gun. With the easy, one-person installation, TandoShake offers a real solution to the labor shortage. For more information, visit http://www.tandobp.com.
About Tando
The Tando brand of exterior building products leverages innovation and manufacturing technology to solve market challenges such as labor shortages, long lead times, and moisture concerns all while meeting consumer demand for mixed material exteriors and low maintenance. From launching the first polymer shake over 40 years ago to developing the #1 brand of Composite Stone, Tando has a proven history of creating new categories, including TandoStone™, Beach House Shake™, and TandoShake™. For more information, please visit http://www.tandobp.com.