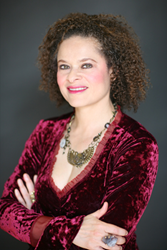 "A Tangle of Fates mixes planetary romance with a fairy-tale subtext and serves it up with an intriguing background of reimagined technology and religion. The result is delicious." - Emma Bull, Author of "War for the Oaks" Los Angeles, CA
Los Angeles, CA (PRWEB) October 20, 2014
Muse Harbor Publishing's Science Fiction/Fantasy Award-Winning Author Leslie Ann Moore will speak to fans and promote the launch of her new novel, "A Tangle of Fates," Book One in the Vox Machina Trilogy, at L.A.'s Coffee Connection, 3838 South Centinella Boulevard on Saturday, October 25, 2014 from 6-9 p.m. Moore is the author of the internationally popular, romantic fantasy trilogy, "Griffin's Daughter" which sold over 35,000 copies to date and was the winner of the acclaimed IBPA Benjamin Franklin Award for Best First Book in Fiction. Moore was also a VIP guest speaker at LONCON 2014, the world's largest Science Fiction Convention, which was held in London and is home to the prestigious Hugo Awards. On October 25th, Science Fiction/Fantasy fans will get a special treat to hear the acclaimed author speak about her latest novel and its fantastic, alien world as well as her life as a successful author in today's dynamic world of publishing. This event is free to the public and refreshments will be served.
Moore's latest book, "A Tangle of Fates," Book One in the Vox Machina Trilogy, is a New Adult Science Fiction/Fantasy/Romance novel featuring a young, gutsy heroine and heir to the kingdom, Deanna Hernaan. Moore's unique tale of 'Snow White as a revolutionary, instead of a pawn' takes place four hundred years after a devastating war on the alien world Nuetierra, in the still recovering, steam-powered, dangerous civilization of Nue Bayona. Here, massive air-breathing jellyfish float through violet skies trolling for prey, and giant creatures roam the ancient ruins seeking human blood.
Forced from her comfortable home after escaping an assassination attempt by her own stepmother, the brave Hernaan embarks on her revolutionary journey where she befriends the oppressed Tiqui people and must choose between love and sacrifice, justice and safety, a shaman's wisdom or her own instincts, all while the fates of three women, two people, and one planet hang in the balance.
As a person of color, Moore addresses societal effects of racial injustice and oligarchy on her planet of Nuetierra, which mirror these same issues here on Earth.
Emma Bull, Author of "War for the Oaks," says, "A Tangle of Fates mixes planetary romance with a fairy-tale subtext and serves it up with an intriguing background of reimagined technology and religion. The result is delicious."
On Saturday the 25th, from 6-9 p.m., Moore will give insights to her success as a professional sci-fi fantasy storyteller, as well as the practical side of the industry, specifically the realities of making a living in today's digital age of Science Fiction literature. Moore will discuss disparities that arise between authors and readers in the interpretations of stories, and what tools authors can use to help convey their intended message to their audiences.
Steven Barnes, author of "Lions Blood," says, "A Tangle of Fates is an exciting start to a new, lushly written and deeply imagined fantasy trilogy."
Moore's books can be found on Amazon.com, Museharbor.com, and through the author's website at http://www.leslieannmoore.com. Like Moore on Facebook at leslie.ann.moore, friend her on goodreads and follow her on Twitter at @Leslie_AnnMoore.
Moore has added a series of Q&A videos to her Youtube channel where fans can watch her read exciting excerpts from her book and answer questions on the craft and business of being a successful, published author in today's ever-changing literary world.
Moore has been a storyteller since childhood and a fan of science fiction authors Ray Bradbury, Terry Brooks, and J.R.R. Tolkien since middle school. Her creative writing training and fascination with science fiction/fantasy inspired her to write the popular, 2008 IBPA award-winning "Griffin's Daughter" trilogy. Moore, a graduate of UC Davis, a practicing veterinarian, as well as an accomplished belly dancer and Victorian costumer, now shares her love for writing and cosplay with her husband in Los Angeles, California.
Vice-President of the Greater Los Angeles Writers Society, Moore is an animated and engaging speaker, and can be reached for book reviews, radio, TV, feature articles and blog interviews or event speaking engagements by contacting margaux(at)museharbor(dot)com.
Based in Santa Barbara, CA , Muse Harbor Publishing was founded in 2011 as "writers helping writers, in service to our readers."
Based in Santa Barbara, "Innovative Creative Content: What Makes You Different Connects Us All" is a Content Marketing Firm focusing on successful client branding and global marketing through targeted content and storytelling campaigns. For more information, visit their website at http://www.innovativecreative.co or contact them directly at email (at) innovativecreative (dot) co.