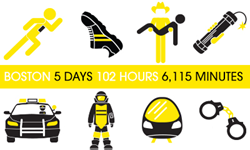 Cambridge, MA (PRWEB) March 21, 2014
In an effort to make sense of the violence the city of Boston and surrounding communities experienced last April, Tank Design, an award-winning design firm based in Cambridge, has created a book using the simplest human language we have: iconography. The book, titled "102 HOURS," will be released and available for sale at the end of the month.
"102 HOURS," released on the eve of the Boston Marathon bombing's first anniversary, represents the events during and following that day. An austere and linear account of a previously inconceivable five days, the book encourages private reflection.
"102 HOURS" will be released and available for sale beginning March 27, 2014, during a launch event hosted by AIGA Boston at the Middlesex Lounge in Cambridge from 6 - 9 p.m. The event is free and open to the public. Event details can be found at http://www.boston.aiga.org. The book is also available for purchase online at http://www.102hours.com.
All profits from book sales will be donated to Youth Design, a recognized 503c Boston-based non-profit organization that educates and empowers creative urban youth to become the next generation of designers. Tank Design believes that such education and empowerment can help strengthen communities and help ensure the best future for the Boston area and beyond.
About Tank Design
Founded in 1994, Tank is a full-service, multidisciplinary design, communications and branding agency with offices in Cambridge, New York, San Francisco and Atlanta and has provided award-winning work for some of the world's most recognizable brands in the US and abroad. Tank helps transform organizations, re-invigorate brands and grow businesses in many different sectors, from the small and independent, to large multinational corporations, providing innovative, creative and strategic solutions in any medium — analog, digital, mobile, and environmental. http://www.tankdesign.com
About Youth Design:
Youth design is a Boston-based non-profit organization that empowers talented urban youth to pursue a path to higher education and promising equitable careers by engaging the professional design community to mentor, educate, train and employ the next generation. http://www.youthdesign.org
About Journeyman Press
The Journeyman Press is a privately owned print communications company located in Newburyport, MA. For over twenty-five years, they've helped discerning clients across a wide array of markets bring their creative ideas to life. With a broad range of print, packaging and mailing services, they've become a leading provider of creative print solutions in New England. http://www.jpress.com