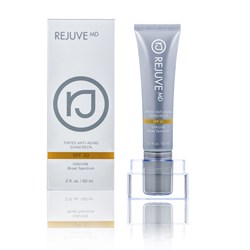 "A good sunscreen is the most important skin care product that everyone should use daily," says Dr. Alex Khadavi, board certified dermatologist.
Los Angeles, CA (PRWEB) October 22, 2013
It's common knowledge today that sun exposure causes melanoma and other types of skin cancers. USA Today reported their "Five Tanning Myths Exposed" going into the winter months. Board certified Dermatologist and creator of anti aging line RejuveMD, Dr. Alex Khadavi, says it's important to wear proper sunscreen or stay out of direct sun as much as possible.
"Sun exposure is one of the easiest ways to damage the skin and speed up the aging process," says Dr. Khadavi. "A good sunscreen is the most important skin care product that everyone should use daily." It's important to understand why the skin ages to determine how to protect it.
With the increase of melanoma cases, Dr. Khadavi says there should be more efforts to educate the public about the risks of tanning (indoor and outdoor) as well as encouragement for daily use of broad spectrum sunscreens.
"Patients are often times shocked to learn that small sun exposure can be a huge risk," he says. "I think education and discussion on what those risks are and ways to protect against sun exposure are essential."
USA Today released their five tanning myths:
Myth #1: All you need is sunscreen
Tip: Use a broad spectrum sunscreen with 30 SPF or higher. Wear a wide brimmed hat for even more protection.
"Sunscreens wear off, so it's important to constantly reapply throughout the day," recommends Dr. Khadavi.
Myth #2: Melanomas form only on sun-exposed spots.
Tip: Check the soles of your feet, palms of your hands or even your fingernail beds for melanomas. Dr. Khadavi recommends visiting a dermatologist for regular check-ups. "The earlier melanoma is detected, the better," says Dr. Khadavi.
Myth #3: Salon tanning is safer than sunbathing.
Tip: UVA tanning is not safe tanning and indoor tanning puts you at a 75% higher risk of developing skin cancer.
Myth #4: Only the fair and freckled are affected
Darker skin tones are vulnerable to damage from the sun too. The spots can be less obvious, however, so it's important to get a regular check-up.
Myth #5: A base tan prevents sunburn
Sun exposure does not protect against more sun exposure.
RejuveMD, created by Dr. Khadavi, offers a full line of anti aging products and most recently added was an anti aging sunscreen.
"Most quality beauty facial products today have some level of SPF. But they usually also come with an array of chemicals - my goal was to create a product without those harsh chemicals that would still protect our skin."
Using only natural mineral Zinc Oxide in an advanced clear formula (no white chalky residue), RejuveMD Tinted Anti-Aging Sunscreen provides full spectrum UVA/ UVB protection at SPF 30. With powerful antioxidants to target skin damage RejuveMD Tinted Anti-Aging Sunscreen also reduces redness, reduces hyperpigmentation and improves the appearance of fine lines and wrinkles for radiant skin! In addition to these amazing benefits, one application offers a sheer tinted coverage that blends and covers imperfections and evens skin tone. You no longer have to apply your facial serum, moisturizer, foundation and concealer. RejuveMD Tinted Anti-Aging SPF 30 is your anti-aging weapon!
Dr. Alex Khadavi has fused his knowledge and research in skin cancer and incorporated it to develop Rejuve MD Sunscreen, with the power of natural ingredients.
Rejuve MD Sunscreen can be ordered directly by calling (877)-512-4247 or by visiting RejuveMD.com.