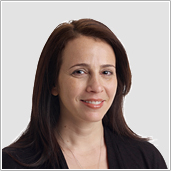 "The market has been seeking a turnkey solution to corporate weight loss for years....With Retrofit Group, corporations can finally embrace a convenient, sustainable method for improving employee wellness.-Tanya Singer, Retrofit VP of Engagement
Chicago, IL (PRWEB) February 05, 2014
Retrofit, the expert-led, data-driven weight loss company, announces the recruitment of Tanya Singer as Vice President of Engagement. Based in New York, Singer now oversees the expansion of Retrofit's corporate business through direct marketing to corporate employees interested in improving their health.
This announcement follows the launch of Retrofit GroupSM, the first expert-led online group weight loss program, and demonstrates the company's continued success in attracting high-profile executives. Singer will spearhead the initiative to establish Retrofit Group as the first choice for America's leading corporations.
Singer brings more than 15 years of experience as an Internet services executive. The veteran marketer has led projects for industry leaders such as Yahoo! and Time Inc. Singer, who has an extensive background in marketing and product development, brings new insights and measurement-driven processes to engage new clients at Retrofit.
Retrofit delivers a sustainable weight loss solution to notable corporations and organizations such as Google, Salesforce.com, the NFLPA Former Players and the American Medical Association. Today, more than 90% of Retrofit clients are losing weight by making lifestyle changes through the use of Fitbit wireless technology and expert-led online videoconferences.
"Employee participation is the first crucial step in fighting obesity in the workplace," said Jeff Hyman, Chief Executive Officer of Retrofit. "Tanya will support employers in their effort to engage employees in this crucial healthcare goal."
Studies prove that each overweight or obese employee costs employers nearly $1,500 a year in added healthcare costs. Duke University recently found that as an individual's BMI rises, his or her healthcare costs skyrocket.
"Now is the time for employers to invest in the health of their employees," said Singer. "The market has been seeking a turnkey solution to corporate weight loss for years. Retrofit fills that gap. With Retrofit Group, corporations can finally embrace a convenient, sustainable method for improving employee wellness."
"As national companies roll out Retrofit Group, having someone with Tanya's proven track record will be an advantage," said Hyman. "She's been an integral part of marketing for some of the most successful Internet-focused companies and we're thrilled to have her join the Retrofit team."
"Businesses need a modern approach for weight loss that speaks to the way people live and work today," said Singer. "By coupling the latest technologies with personalized expert coaching, Retrofit is uniquely suited to helping corporate employees take control of their weight."
Singer began her career at Monster Worldwide. From there, she joined Yahoo!, where she held numerous leadership positions in product development and marketing. Specifically, she led marketing for Yahoo! News and Yahoo! Finance, two of Yahoo's largest media properties. More recently, as Executive Director at RealSimple.com, she led the re-launch of the publication's website, where she helped double revenue for two consecutive years. Singer holds a BA in psychology and biology from Wellesley College, where she graduated with honors.
About Retrofit
Retrofit, the expert-led, data-driven weight loss program for busy professionals, is designed to deliver lasting results. Its innovative program for both individuals and corporations includes wireless monitoring of a client's weight, activity and sleep, as well as access to wellness coaches consisting of registered dietitians, exercise physiologists, and behavior coaches. Retrofit has raised $15.7 million in venture financing led by Draper Fisher Jurvetson (DFJ) and Cambia Health Solutions. Retrofit can be found on the Web at RetrofitMe.com and by calling 855-4-RETROFIT. Follow the company on Facebook and Twitter at @retrofitme.