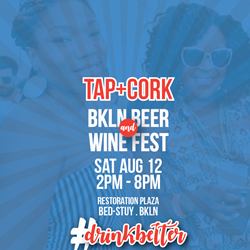 Tap+Cork combines the sophistication of grand tastings with a block party atmosphere, featuring 60+ craft beer and artisanal wines, food, live music and entertainment.
Brooklyn, NY (PRWEB) June 27, 2017
Arts+Crafts will present its fifth annual Tap+Cork: Brooklyn Beer & Wine Fest Saturday, August 12, 2017 at Restoration Plaza in Bed-Stuy, Brooklyn. More than one thousand festival goers are expected to descend upon the day-long event that combines the experience of grand tastings with a block party atmosphere.
Beer and wine aficionados are invited to sip and sample their way through more than 60+ curated craft beer and artisanal wine selections while enjoying tasty treats and eats from local food vendors. There will also be live musical performances and sounds provided by DJ CEO and DJ Christopher Sealey. Featured breweries and wineries include Harlem Brew, Five Boroughs Brewing, Veltins' Grevensteiner, Dyckman Brewery, Owl's Brew, Brooklyn Oenology, Cherulin Thomas and Mouton Noir.
The festival will also include a #DrinkBetter VIP Lounge, featuring a special three-hour tasting session with unlimited tastings of top-shelf curated selections, food and beverages. The festivities have also expanded with a series of events throughout the weekend, including TapNite Out on August 11 and the first annual Tap+Cork Champagne Brunch on August 13.
"It's cool to see how what was once perceived as unusual here in Brooklyn has now become the norm," said Tai Allen, creative director of Arts+Crafts & Tap+Cork. "This, honestly, is a dream come true: we are curating experiences priced for fun, not to hurt pockets. I am excited to have this continued opportunity to present an event that offers up block party vibes while helping to support local hospitality businesses and commerce."
Tap+Cork: Brooklyn Beer & Wine Fest takes place Saturday August 12, 2-8pm at Bedford-Stuyvesant Restoration Plaza, located at 1368 Fulton Street in Brooklyn, New York.
Tickets start at $25. General admission tickets include 15 sample tastings (additional sets of five tasting tickets will be available on site) and a commemorative sampling cup. VIP tickets start at $60 and include access to the #DrinkBetter lounge along with general admission access. Advance ticket purchase is highly recommended.
For more information or to purchase tickets, visit tapcorknyc.com.
# # #
About Arts+Crafts
It is the creative goal of Arts+Crafts to develop events that recognize the importance of giving neighborhoods amazing things to do and connect with one another, from concerts to beer & wine tastings to neighborhood festivals. Arts+Crafts is dedicated to creating the events for the communities it serves and experiences that communities will remember for years to come. Already entrenched in the Central Brooklyn and Downtown Brooklyn art scenes, the founders of Arts+Crafts are committed to the growth of arts and culture in New York City.
About Tap+Cork
Now in its fifth year, Tap+Cork events combine the sophistication of grand tastings with the celebratory atmosphere of summer festivals and neighborhood block parties. Each event features award-winning selections of craft beers, regional wineries and attracts thousands for tastings, live music and entertainment.