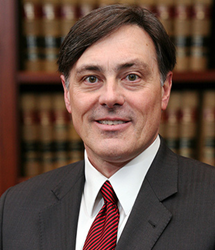 I am happy to support this great cause and so pleased to be serving as one of the Men Who Cook.
Charleston, Ill. (PRWEB) March 21, 2014
William Tapella of Illinois car accident law firm Tapella & Eberspacher will be a guest chef at the sixth annual "Men Who Cook" fundraiser on March 22, 2014 in Charleston, Illinois.
During the competition, 50 local amateur cooks will create a dish to be judged by guests.
The annual event supports the Children's Advocacy Center of East Central Illinois, a non-profit that provides services to children who are victims of sexual abuse and severe physical abuse.
"The Children's Advocacy Center is a unique center for helping kids who are facing the worst of all circumstances – sexual abuse. The center, among its services, offers a state of the art interviewing facility where children can be interviewed by trained professionals and law enforcement about the abuse and the abuser," explained Tapella.
Tapella, partner at Tapella & Eberspacher, is deeply involved in his local community, and has supported the Children's Advocacy Center for a number of years with pro bono services and financial support.
"It is stunning that a small community like ours needs such a facility, but the need is real and as members of this community we have a responsibility to these children. I am happy to support this great cause and so pleased to be serving as one of the Men Who Cook. For all the misery behind the need for the Children's Advocacy Center, this is one night were we celebrate and enjoy the success of the organization with good friends and great food. I hope everyone can come out, enjoy themselves, and support this important cause."
Tickets for the event are $40 per person or $75 per couple. The event will begin at 5:00 p.m. For more information and to purchase your tickets for the event, visit menwhocook.info.
About The Tapella & Eberspacher Law Firm
Tapella & Eberspacher's superior reputation for quality, personal service and results is the foundation for our premier status. Based in Illinois but handling cases throughout Illinois and Missouri, our lawyers focus on personal injury, including medical malpractice, auto accidents, trucking accidents, nursing home negligence, and dangerous products. The Tapella & Eberspacher Law Firm have the experience to guide their clients through the entire personal injury litigation process along with the determination and confidence to help fight for the maximum injury compensation amounts for their clients. For more information or to schedule a free case review, visit foryourjustice.com or call (855) 522-5291.
Tapella & Eberspacher
6009 Park Drive,
Charleston, IL 61920
855-522-5291