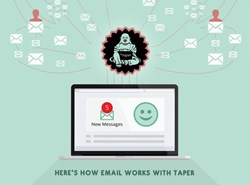 With Taper, there is no teaching, learning, complicated installation or integration. You just sign up once and it works discreetly in the background with virtually any email service.
Charlotte, NC (PRWEB) October 15, 2013
Taper is a new software that helps users manage email overload, and achieve inbox zero by queuing all incoming emails, and allowing only a few to enter the inbox at one time. Users are then able to tackle each individual email in a more relaxed and stress-free manner, unlike traditional email that continually bombards users. With Taper, users are given the freedom to receive an email, focus on it without disruption and effectively handle it.
Many people check their email inbox at the beginning of each day, only to be bombarded with dozens of new emails. They receive more emails than they can efficiently manage at one time, and begin to feel stressed or overwhelmed, ultimately watching their productivity dwindle. But Taper acts as a doorman for the inbox; once an email is deleted, archived, moved or flagged, another is allowed in. The rest of the emails are stored securely in a folder just in case users need to see something before Taper lets it in.
Most skeptics are worried that they'll miss important emails from certain contacts. But, Taper has a feature called the VIP List. Any emails sent from a contact on a user's VIP List will immediately move to the front of the line in the queue, ensuring that they're the very next emails that Taper lets through.
Co-founders Scott Cohn and Josh Lippiner of Taper have successfully developed a Mac app as a proof-of-concept. They knew this solution would eventually have to run in the cloud so that it was always working, but hosting, data transfer, IP addresses and more are costly measures. So, the duo has looked to Kickstarter to raise the funds necessary to develop the cloud-based Taper solution for anyone or any business.
"The idea is to save time, not spend it teaching your computer new tricks or learning complicated software," states Scott Cohn, co-founder of Taper. "With Taper, there is no teaching, learning, complicated installation or integration. You just sign up once and it works discreetly in the background with virtually any email service."
Taper is not like any other software available. It isn't a spam filter, categorized inbox, unsubscriber or snooze button; it simply lets people deal with fewer emails at a given time. With less, a person can do more. If, for any reason, the user wants to see what's waiting for them in their queue, emails will all be stored in a separate folder for easy viewing. Users can even request a notification that summarizes emails from the separate folder.
To coincide with the zen-like environment that Taper creates, backers on Kickstarters can expect rewards that promote inner-peace. Pledges of $20 and higher receive Taper's cloud based service and novelties including a sticker with Taper's own Buddha logo and self-produced album "Music to Email to". Anyone who pledges $15 or more will receive a download of the app for Mac along with the previously mentioned goodies. Subsequently higher pledges promise multiple users for Taper and Taper Pro, a business version of the service. The highest reward tier pledge promises an invitation to the Taper Launch Party in New York City that includes overnight accommodations and a personal Buddha statue.
To learn more about Taper and its crowdfunding camapaign on Kickstarter or to pre-order Taper today and support the campaign, visit http://bit.ly/TaperMailKS. Also be sure to Like Taper on Facebook and Follow them on Twitter @tapermail to stay up to date with the campaign, and learn about any new rewards, announcements and contests.
About Taper
Taper is a new, desktop application for those who receive too many emails to properly manage each day. Co-founders Joshua Lippiner and Scott Cohn are working towards turning Taper into a web-based solution with the help of early adopters on Kickstarter. Taper aims to be the go-to email overload solution for all, making work and personal emails more manageable in a stress-free way. To learn more about Taper, visit http://www.tapermail.com.