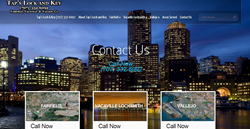 We constantly train on new lock out situations to better serve our clients.
Vallejo, CA (PRWEB) January 24, 2014
:: Locksmith Website Launched Successfully ::
Tap's Locksmith service in Fairfield, CA, better known as Tap's Lock & Key, has launched its new website. While the new locksmith service website runs off the latest version of WordPress, its unique approach makes it convenient for users to receive locksmith services in three different areas including the company's home town, Fairfield, CA as well as two other areas that are served which include Vacaville ­­­­­and Vallejo, CA. The main page clearly identifies to the user which area to select for the fastest mobile locksmith service available in Vallejo, Vacaville and Fairfield, CA.
:: GPS Better Serves Locked Out Customers ::
More efforts online and offline have been made to increase the ability for a Tap's Lock and Key to specifically reach Vallejo for its 24/7 mobile locksmith service. New navigation systems have been instated to maximize the ability to foresee traffic as well as how to better avoid other obstacles that the GPS systems, Google Maps and Waze applications can better identify. Tap's Lock and Key has seen significant travel time decreases for locksmith services in Vallejo lowered and clientele at a higher handle rate. This means a win for both the client and the locksmith company.
:: New Locksmith Blog ::
Tap's Locksmith service in Vallejo, CA constantly trains on new automotive lock out situations and has created a blog on their new website to cater lockout topics. This will serve as a guide on what to do when locked out of a vehicle and how to determine the current situation level. The new locksmith help blog touches on subjects such as being looked out of a vehicle with a child or baby inside with recommended steps to take according to the situation level. In Vallejo California, temperatures can quickly rise to extreme heights inside a vehicle during the summer months and can cause serious injury to children locked inside a vehicle. Touching on these helpful topics is new to the locksmith community and is a step Tap's locksmith service hopes other locksmith companies will encourage.
:: 24 Hour Mobile Locksmith ::
The new locksmith service website is designed to be mobile friendly. For convenience reasons the mobile version takes you directly to the contact us page for immediate assistance. Taking this in consideration is just one of the many improvements Tap's Lock and Key has taken to improve on customer service, response time and convenience.
Related Search Phrases:
[Vallejo, CA Locksmith] [Mobile Locksmith] [Vallejo Locksmith Service] [Google Trending] [Breaking News] [Tap's Lock and Key] [Lock Out Service]
Related Hashtags:
#GoogleTrending #BreakingNews #Locksmith #Locked #LocksmithService #Vellajo #TapsLockAndKey #Lockout #HomeSecurity