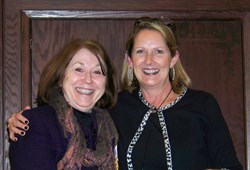 It is part of our philosophy that for a business to be successful, you should also give back to the community.
Seattle, WA (PRWEB) December 31, 2013
Claudia Smith, Target Public Marketing's director for the Pacific Northwest, was named "Networker of the Year" this month by the Bothell, Wa, Professional Business Network at their annual holiday get-together. PNB is dedicated to business masterminding, deepening relationships to refer leads and connect small businesses and entrepreneurs to promote business. It currently has over 100 members. Smith also serves as the membership chair on the board of directors.
"It is an honor to be recognized by PNB," exudes Smith who has been TPM's Pacific Northwest director for the last four months. "Networking is about people and building relationships. Caring about others is vital."
Smith's exceptional level of activity was evidenced in the holiday season. She attended several networking events such as the Bellevue Chamber of Commerce Ambassador's Holiday Lunch while also taking the time to help others less fortunate with her networking skills.
Late in the year, she lobbied and won support from the Seattle Connections Brunch Group for a Christmas gift drive for the homeless women at the Seattle YWCA Angeline Shelter. Over 150 gift bags were filled with seasonal scarves and fragrant lotions and donated to the women at the shelter this month.
Early in the New Year, she will be volunteering at the shelter to implement a program she developed to help the women create a resume, learn interview and networking skills themselves so they can find employment in the Puget Sound area. Her program includes a professional image consultation and professional head shot with a makeover and new business outfit from the Y's Dress for Success Program.
"It is part of our philosophy that for a business to be successful, you should also give back to the community. Helping others to help themselves is a key to making a better community and something I love to do. It is a real pleasure to be recognized for my networking skills that lead to such contributions," concludes Smith.
For more information on Target Public Marketing, visit our website at http://www.targetpublic.com.