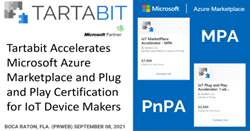 "Tartabit's MPA and PnPA offerings complement the Microsoft strategy making it easier for IoT Device Makers to offer PnP level of Microsoft compatibility." said Tony Shakib, General Manager, Azure IoT at Microsoft Corp
BOCA RATON, Fla. (PRWEB) September 08, 2021
Today, two new Tartabit services, Marketplace Accelerator (MPA) and the Plug and Play Accelerator (PnPA), are now available for purchase as consulting services on the Microsoft Azure Marketplace. The release of the MPA and PnPA services within the Azure Marketplace delivery model aligns with Tartabit's on-going objective to make IoT services easy to use, buy and deploy.
Tartabit's MPA offering is focused on delivering timely results and clearly published outcomes. Within two weeks of receiving the pre-requisite device information from the subscriber, Tartabit will deliver a purpose-built, low-code, IoT Bridge Solution Template which enables seamless integration from the subscriber's product to Microsoft IoT Hub, Microsoft Cosmos DB, as well as Microsoft IoT Twin and PnP integration.
Tartabit's PnPA offering provides Azure Certified Device certification for device makers through the execution of a battery of PnP certification tests. After the tests are successfully completed by Tartabit a certification letter will be issued to the device maker. Once PnP certification is achieved, either Tartabit or the customer can release the listed devices to the Microsoft Azure Certified Device Catalog.
Enterprise Customers as well as IoT Centric Application Service Providers understand the value of seamlessly integrated IoT devices into the Microsoft Azure environment. Providing a simple service to onboard device data saves everyone in the value chain time and money. With the Tartabit IoT Bridge, customers can easily access device IoT data instead of spending time and struggling with the ingestion of the data.
"Today's IoT Marketplace Accelerator announcement reinforces our dedication to the important LPWAN sector of the IoT market as well as our dedication to Microsoft." said Fred Yentz, CEO and Co-Founder, Tartabit. "We've worked closely with Microsoft engineering to make sure that device makers can easily and reliably onboard their devices to the Azure cloud."
"Tartabit's Accelerator services provide a standard way for IoT Device Makers and their products to become Microsoft Azure Certified." said James Brehm, Founder of James Brehm & Associates, "Tartabit's IoT Bridge and new MPA and PnPA service offerings bring the advantages of IoT integration best practices and scalability to the market as the importance of LPWAN IoT devices continue to build."
"The LPWAN segment of the IoT ecosystem continues to gain importance to Microsoft as does supporting a more seamless customer experience with Microsoft Plug and Play model as well as Azure Certified Device listings on our Device Catalog," said Tony Shakib, General Manager, Azure IoT at Microsoft Corp "Tartabit's MPA and PnPA offerings complement the Microsoft strategy making it easier for IoT Device Makers to offer PnP level of Microsoft compatibility."