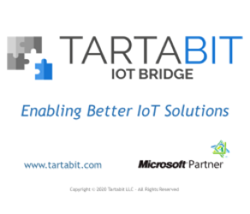 "The Tartabit IoT Device Bridge enables Microsoft Azure users to quickly deploy a large scale, customized solution with Queclink devices in a matter of minutes." Says Manny Hernandez, VP of North America at Queclink, "Frictionless integration to Azure allows our customers to provide solutions an
BOCA RATON, Fla. (PRWEB) June 22, 2021
Today, Tartabit LLC announces a series of new features available in the IoT Bridge to enable emerging and established device makers additional pathways into Microsoft Azure. With the latest release of Tartabit's IoT Bridge, customers can now self-onboard devices that do not natively support an Azure IoT SDK using the Tartabit IoT Bridge low-code platform. Customers continue to enjoy the easiest to use, easiest to buy, easiest to deploy, and easiest to manage cloud gateway service for Azure IoT Hub integration, available in the Azure Marketplace.
First, in addition to Tartabit's existing support for LWM2M standards-based integrations, Tartabit IoT Bridge now supports custom UDP, CoAP, MQTT, HTTP, and TCP transports that can be used to connect proprietary protocols into Azure IoT Hub. With this functionality, new and old devices can be quickly integrated enabling increased battery life, reduced data consumption on LTE Cat-M and NB-IoT networks, and extending the life of existing fleets of devices already in the field.
Second, the Tartabit IoT Bridge is expanding access for the industry's most popular OEM IoT devices through transparently bridging their proprietary protocol implementations to Azure IoT Hub, IoT Central and other services. Tartabit is pleased to announce support of select asset tracking devices from Queclink as the newest listing within the IoT Bridge supported device portfolio. Customers can now quickly integrate the vast portfolio of devices from Queclink into Azure IoT Hub in minutes.
Lastly, the Tartabit IoT Bridge furthers its support for aggregating LORAWAN LoRa Networks Servers (LNS) into Azure IoT by announcing support for Chirpstack, LORIOT, The Things Network, and Helium. In addition, the Tartabit IoT Bridge now supports devices from Browan, RAKWireless, and Laird Connectivity in its solution templates.
"Today's announcement reinforces our dedication to helping customers onboard LPWAN devices into Microsoft Azure that lack native integration capabilities," Jim Wert, CTO and Co-Founder, Tartabit. "Helping our customers quickly deploy solutions across multiple networks, protocols, and technologies into Azure is our number one objective."
"The Tartabit IoT Bridge enables Microsoft Azure users to quickly deploy a large scale, customized solution with Queclink devices in a matter of minutes," says Manny Hernandez, VP of North America at Queclink, "Frictionless integration to Azure allows our customers to provide solutions and critical asset information natively into new Azure based applications."
About Tartabit LLC
Tartabit is a Next Gen Things (IoT) enablement company founded by a team of experienced IoT executives and practitioners who share a passion to provide easy to use tools and services capable of accelerating the adoption of IoT globally. Our vision is to radically increase the ability for enterprise and OEM customers to leverage next generation IoT device data by offering the easiest to use, buy, deploy, and manage LPWAN Cloud Gateway Service to bridge next generation IoT device data with industry leading Cloud Services. IoT Services built for IoT Developers by IoT Developers.
Copyright © 2021 Tartabit LLC. All rights reserved. Tartabit, Tartabit IoT Bridge and all associated logos are trademarks of Tartabit LLC in the United States and other countries. Other names used herein may be trademarks of their respective owners.