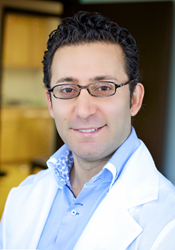 Tarzana, CA (PRWEB) January 09, 2015
Dermatologist, Dr. Peyman Ghasri, is now offering a treatment called fractional laser resurfacing. Fractional laser resurfacing is an advanced anti-aging treatment that offers fast recovery and beautiful results. Dr. Ghasri uses a special type of laser to remove some of the outer layer of skin, which also helps remove superficial scars, wrinkles, lesions, stretch marks discolorations and other common flaws.
Fractional laser resurfacing is extremely effective and can be completed in a single appointment. Most people feel no discomfort during treatment thanks to the use of a topical anesthetic. The procedure can be repeated at regular intervals as desired. According to Dr. Ghasri, candidates for the procedure may include those with:

Uneven skin tone
Loose skin
Acne scars
Lesions
Sun spots
Fine lines and wrinkles
Although some patients notice immediate improvements, skin appearance will continue to improve over the next six months. Fractional laser resurfacing can be used alone for a bright, healthier appearance or combined with Restylane, Juvederm, or other treatments for a complete transformation.
About Dr. Ghasri
Dr. Peyman Ghasri graduated magna cum laude from UCLA, from which he received a variety of scholarships and awards. A full scholarship allowed him to attend UC Irvine School of Medicine and graduated at the top of his class with a perfect academic record. Dr. Ghasri continued his education in plastic surgery and dermatology and has since participated in various research fields. His work has been published in peer-reviewed journals, and he has spoken at national and international meetings. Dr. Ghasri is a member of the American Society of Mohs Surgery, a fellow of the American Society of Dermatologic Surgery, a diplomate of the American Board of Dermatology, and a fellow of the American Academy of Dermatology.
Patient Information
Dr. Ghasri offers numerous cosmetic and medical dermatological treatments, including Dysport, Restylane, Juvederm, laser hair removal, chemical peels, sclerotherapy, Botox and CoolSculpting. According to Dr. Ghasri's team, "We strive to achieve the most optimal results while providing the most comfortable experience by utilizing the most cutting edge diagnostic measures and treatment options." They serve patients throughout the Southern California region, including Beverly Hills, Los Angeles, Studio City, Sherman Oaks, Encino, Tarzana, and Woodland Hills. Extended hours are available along with valet parking for patient convenience.