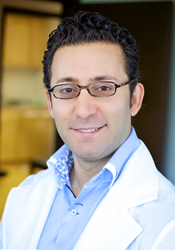 Tarzana, CA (PRWEB) January 28, 2015
Castle Dermatology Institute is now offering CO2 laser resurfacing to help patients rejuvenate their skin for a fresher, more youthful New Year. CO2 laser resurfacing uses intense pulses of concentrated light to vaporize the flaws in the outer layers of skin. As a laser peel, it reduces the appearance of many minor skin imperfections, including fine lines, wrinkles, scars, and acne scars. Skin continues to improve even after the treatment has concluded as skin's natural collagen production is improved. Over the next several weeks or months, skin will look softer, smoother, and plumper.
Dr. Peyman Ghasri, Tarzana dermatologist, uses topical anesthetics to keep patients comfortable throughout the procedure. The strength of the laser can be adjusted for maximum results, and the procedure usually takes from 10 minutes to one hour. Some patients may need more than one treatment or occasional touch ups to get the best results. CO2 laser resurfacing can be an excellent option for patients with:

Skin discolorations
Skin tumors
Keloid scars
Acne scars
Wrinkles
Fine lines
The treatment can be used on the face, neck, hands, and décolletage. Results can last five to seven years and are easily maintained with proper skin care products. Most patients experience no downtime, but there may be some lingering redness. Patients may benefit from other treatments as well. Dr. Ghasri offers a range of cosmetic and medical dermatological treatments, including Juvederm, Botox, Dysport, Radiesse, CoolSculpting, laser hair removal, and fractional laser resurfacing. According to his team, "Dr. Ghasri approaches each patient as an individual and regularly takes the time to discuss all options and answers all questions in detail."
About Dr. Ghasri
Dr. Peyman Ghasri graduated magna cum laude from UCLA and continued his education at UC Irvine School of Medicine. After medical school, he continued his studies in general and plastic surgery followed by his dermatology residency. As one of the pioneer investigators on alternative Thermage applications, Dr. Ghasri has remained on the leading edge of dermatology. His work has been published extensively in peer-reviewed dermatology journals, and he has lectured both nationally and internationally. Dr. Ghasri is a fellow of the American Academy of Dermatology and the American Society of Dermatologic Surgery and a diplomat of the American Board of Dermatology. To learn more, visit http://www.castlederm.com.