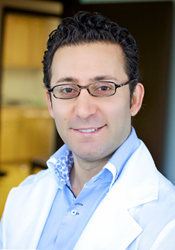 Tarzana, CA (PRWEB) February 24, 2015
Tarzana dermatologist, Dr. Peyman Ghasri, is now offering Ulthera skin tightening treatments. Ulthera is an advanced skin rejuvenation procedure that is FDA-cleared for treating loose and sagging skin in the eyebrow, neck, and under-chin regions and to improve the appearance of wrinkles and décolletage lines. It uses safe ultrasound waves to stimulate collagen production in the skin.
Collagen is a protein that acts as a scaffold that supports and firms the skin. It works with elastin to keep skin resilient and flexible. Collagen production can slow with age, which can lead to a slackening in the facial and body skin. This increases the appearance of age. In the past, patients had few non-surgical options for treating loosening or sagging skin. Ultherapy is non-invasive and non-surgical. It taps into the body's natural healing powers to tighten loose skin and add tone and flexibility for a plump, healthy, uplifted look. The deeper layers of skin are stimulated while the outer layers are left untouched. Patients will continue to notice improvements over the next two to three months, and that improvement can continue for up to six months. Treatments can be repeated as needed.
Although Dr. Ghasri is known for his skilled cosmetic treatments, he offers other options as well, including:

Botox for migraines and gummy smiles
Injectable treatments for plumper, youthful-looking skin
Skin cancer treatments
Treatments for eczema, psoriasis, and rashes
Wart and mole treatments
Skin infections, cysts, and lumps
Fractional and CO2 laser resurfacing
About Dr. Peyman Ghasri
Dr. Ghasri is a top dermatologist, a member of the American Society of Mohs Surgery, a diplomate of the American Board of Dermatology, and a fellow of the American Society of Dermatologic Surgery and the American Academy of Dermatology. He began his career at UCLA, from which he graduated magna cum laude. He continued his studies at UC Irvine School of Medicine and completed further training in general and plastic surgery. Today, Dr. Ghasri is known for his skilled work, and he has been published in peer-reviewed journals and pioneered innovative research.