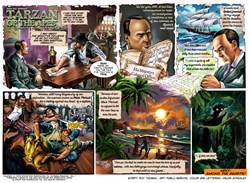 Tarzana, CA (PRWEB) September 18, 2013
Tarzan of the Apes, from Edgar Rice Burroughs, Inc., is swinging your way in the newest addition to its weekly online comic strip site alongside the existing Carson of Venus, the Eternal Savage, the War Chief, the Cave Girl, Pellucidar and the New Adventures of Tarzan comic strips.
The new Tarzan of the Apes comic strip, written by Roy Thomas, drawn by Pablo Marcos and colored by Oscar González, will be an adaptation of the original classic "Tarzan of the Apes" novel written in 1912 by the late author Edgar Rice Burroughs – the most prolific writer of the 20th century.
Visit http://www.edgarriceburroughs.com/comics for a free view of all seven of our current strips (with another 5 scheduled to begin soon). Then subscribe for just $1.99 a month to see the rest of the content, ongoing weekly comic strip updates – and be thoroughly entertained.