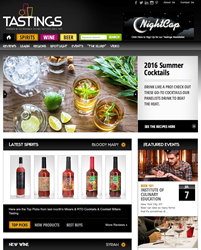 Tastings.com, helping you discover and understand drinks you'll love.
Chicago, IL (PRWEB) June 28, 2016
For 35 years, Tastings®, the consumer brand of the Beverage Testing Institute, has provided fair and impartial reviews of wines, beers, and spirits. Today, it is proud to announce the relaunch of its free consumer website, http://www.Tastings.com. With a database of more than 50,000 professional, blind-tasted beverage reviews, Tastings.com allows users to search for the best wines, beers, spirits, and tasting events, or peruse Top 10 and Best Buy lists of virtually every category of alcoholic beverages, mixers, and ready-to-drink cocktails for their shopping needs. Tastings.com's scientifically-conducted reviews of wines, spirits and beers are added to the site every 15 days and more unique content is available on The Slurp® blog and its companion newsletter, Tastings Nightcap™.
"We are focused on content that help users get the most out the upcoming holidays with features on how to add wine and cocktails to your 4th of July and Labor Day celebrations, not-so traditional Thanksgiving turkey pairings, and winter travel destinations with a liquid appeal," says Tastings.com Director Jerald O'Kennard. "We also have a lot of fun with topics. Our videos and slideshows show consumers how to make their sour mixes and use shrubs for cocktails, how to appreciate great rosé wines, the basics of brewing craft beer, how to pump up your summer time parties, even how to pick the best lemons and limes at the store."
Tastings.com also helps newbies and aficionados find food and beverage events near their homes or travel destinations.
"There has never been an all-in-one resource to find beverage events. Finding and tasting new and interesting beverages has become a hobby and even a lifestyle for many people so we made it easy for them to be in the loop about events either in their area, or that are worth travelling to," says O'Kennard.
So, if you're looking for the best tasting beverages, go to Tastings.com before you buy and be sure to signup for the Tastings NightCap™ and follow them on Facebook, Twitter, and Instagram @tastingsbti.
About Tastings.com
Since its inception in 1981, the Beverage Testing Institute—now known as Tastings®—has been committed to proving fair and impartial beverage reviews for consumers. Tastings' buying guides have appeared in publications including Wine Enthusiast, Restaurant Hospitality, The New Yorker, Wine & Spirits, The Chicago Tribune, Epircurious.com and All About Beer. Beverage producers and marketers around the world use Tastings' professional beer, spirits and wine review services for impartial, expert reviews and advice to improve and promote their products. For more information visit http://www.tastings.com.