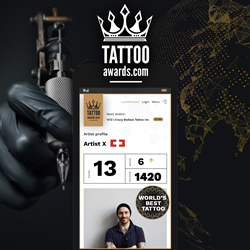 "As a small-town tattoo artist, Tattoo Awards has been a catalyst in getting my name out there and helping me to achieve things I didn't believe possible due to my location." - Danny Belden, tattoo artist and owner of Twistid Ink in Inverness, FL.
SALT LAKE CITY (PRWEB) December 11, 2018
Two of the best tattoo artists in the country are about to be awarded a combined $20k cash for earning 1st place positions in the debut TattooAwards.com Artists' Cup & People's Choice annual tattoo artist competitions. The Artists' Cup and People's Choice are both year-long competitions that award $20,000+ in cash & prizes to the most talented tattoo artists.
Tattoo Awards is the latest venture of Salt Lake City, Utah-based tattoo startup TatTech LLC, and features a sophisticated tattoo-artist ranking and public-voting system. In one year Tattoo Awards has gone from having no traffic or users (the website didn't exist until June 2018) to having more than 3,000 registered tattoo artist accounts and 25,000 user accounts by the end of 2018, and 186,000 votes in the month of November alone. This marked success validates the enterprise in the pursuit of its mission: to create a unilateral platform that recognizes and promotes tattoo artists and their craft. The platform connects tattoo collectors, tattoo artists, event organizers, and international sponsors so they can support their favorite artists and keep up on the latest-and-greatest in tattoo art.
So, what's the difference between the Tattoo Awards Artists' Cup and the People's Choice annual competitions anyway? The Artists' Cup tracks tattoo artists who tour the international tattoo convention circuit every year, entering their tattoo art into the thousands of tattoo competitions held across the world. The Artists' Cup leaderboard is effectively a tally of how often a tattoo artist wins at live tattoo conventions & events. The People's Choice leaderboard, on the other hand, is a tally of all the votes an artist has received total for their tattoo art on TattooAwards.com throughout the year.
Without further ado, we'd like to announce the 2018 Artists' Cup and People's Choice winners! TattooAwards.com is proud to announce our two leaderboard champions of 2018:
The 2018 Artists' Cup Winner is: Allen Bracknell of Grade A Tattoos and Body Piercing in Fort Wayne, IN – winning more than 80 tattoo competition awards in 2018 alone!
And the People's Choice Winner is: Jymi Calkins of Mind Altering Tattoos in LaCrosse, WI – with just over 101,000 votes for his tattoos!
Both of the winning leaderboard tattoo artists will receive a $10,000 cash prize, promotion from the voice of the tattoo world himself, Dr. Carl Blasphemy, plus even more fantastic gifts from Tattoo Awards' sponsors.
In addition to our biggest winners from the leaderboard, we'd also like to congratulate tattoo artist Paul Hicks from Folklore Tattoo Company in Mansfield, OH for winning our Tattoo of the Year competition with a whopping 1,160 votes on a single tattoo! He'll be receiving $1,000 cash plus a year supply of "Blak" lining and shading ink for his win, both courtesy of our sponsor, Allegory Ink.
What's in store for 2019? On January 1st, 2019, both the Artists' Cup and People's Choice leaderboards will be reset to zero points and zero votes (the 2018 leaderboards will be archived for future viewing), officially beginning the second season of the TattooAwards.com leaderboards. We plan to go even bigger with our prizes and cash giveaways in 2019, and with the playing field reset it's anyone's competition! We're also building some big new features that we're preparing to reveal in early 2019, so artists and users can look forward to some exciting updates to the site next year.
2018 was a resounding success for Tattoo Awards and the artists using our platform, and we couldn't have done it without our amazing sponsors and marketing partners including Saniderm, Villain Arts, Tattoo Rain, True Tattoo Supply, Cotz Sunscreen, Helios Tattoo Supply, World Famous Tattoo Ink, Blood Money Irons, Entangled Biome, and PrimeSnax. Thank you to all of our supporters, and we can't wait to see what 2019 brings!
Join the Tattoo Awards community today! Tattoo Awards is currently seeking investment opportunities. For investment and sponsorship-related inquiries, please contact Lisa@TattooAwards.com. For media and general inquiries, please contact Stefan@TattooAwards.com.