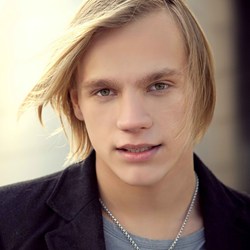 The music video for 'I'll Never Let You Go' became an absolute hit on YouTube.
Kiev, Ukraine (PRWEB) August 15, 2013
Eduard Romanyuta, a 21-year old Ukrainian singer, recently announced his decision to perform alongside the Russian pop duo t.A.T.u. The super concert will be held on September 27, 2013 in Kiev, Ukraine.
This concert will be the first time that t.A.T.u has reunited in four years. The group, which is comprised of singers Yulia Volkova and Elena Yatina, was founded by producer Ivan Shapovalov on May 31, 1999. The duo's first single, "All The Things She Said," topped music charts around the world, especially in Britain, where it stayed number one for four weeks. t.A.T.u's debut album "200 KM/H in the Wrong Lane" also experienced lasting success: it became the first album in the history of Eastern European pop music to go platinum. To date, it has sold over six million copies.
Romanyuta is honored to perform alongside the legendary band and looks forward to entertaining t.A.T.u's fans with his latest hits.
The young singer has been delighting audiences with his music for over 15 years. Romanyuta first gained popularity nationally and internationally through his participation in numerous singing contests. He eventually became a finalist in the National Eurovision Selection and started topping the radio charts with his catchy vocals.
In 2012, Romanyuta released his first commercial album after two years of collaboration with his team. Currently, Romanyuta's collection of hits includes "Berega," "Betray," "Get Real With My Heart," and "Invincible."
His popular single, "I'll Never Let You Go," was written for his Eurovision performance.
"The music video for 'I'll Never Let You Go' became an absolute hit on YouTube," noted an article on Romanyuta's website. "Within only a fortnight, it was viewed over 800,000 times."
Seven of Romanyuta's singles are available for purchase on iTunes. A few of Eduard Romanyuta's most popular videos can be viewed on his YouTube channel, @EduardRomanyuta, and his VEVO channel, @EduardRomanyutaVEVO.
Individuals interested in learning more about Romanyuta and his work can visit the singer's website for more information. Fans can also follow Romanyuta's updates on Facebook and Twitter.
About Eduard Romanyuta:
Eduard Romanyuta is a 21-year-old Ukrainian pop music singer. He is also the recipient of numerous national and international Grand prix and first prizes at music festivals and song contests. Romanyuta has over 15 years of experience on stage, during which he has been nominated for awards such as "Best Male Preformance," "Breakthrough of the Year," and "Video of the Year." For more information, please visit http://eduardromanyuta.com .