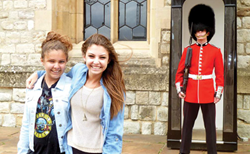 Cost is important, but a unique and memorable experience that brings the whole family together is priceless.
San Francisco, CA (PRWEB) May 19, 2014
Tauck Bridges is an award-winning tour operator offering incredible itineraries crafted just for families around the world. Family owned since 1925, Tauck specializes in inclusive, action-packed vacations.
Cost is important, but a unique and memorable experience that brings the whole family together is priceless. That's why many families put their trust in Tauck Bridges, where they craft itineraries that immerse family travelers in different cultures and in nature, sparking a passion for discovery and inspiring a sense of wonder.
Tauck Bridges trips include the dedicated services of a Tauck Director who manages all the day-to-day travel details of your family vacation. According to many families who have traveled with Tauck Bridges, the Tauck Directors are one of the best parts of their vacations.
Wonderful storytellers with interesting backgrounds as teachers, artists, actors, naturalists, historians, photographers and more, they are great fun to travel with – the kids love them and they love the kids – and they are experts at making every day of the vacation run smoothly and hassle free.
Here's a look at a few of their top trips for families in 2014:
Castles and Kings: London to Paris
Tauck Bridges London and Paris tour is an exciting journey through the annals of time, where different chapters of history come to life around every corner. Picture yourself ruling England from inside Windsor Castle … but don't wind up a "prisoner" in the Tower of London. Take a bicycle ride through the Royal Parks, and stay stealthy on a spy walk. Ride a double-decker bus … the London Eye in a private capsule … and a speedboat on the Thames! Then cross the English Channel aboard the Eurostar for more historic adventures in Paris. Step into the 17th century at the opulent Palace of Versailles… discover the Louvre's treasures on a scavenger hunt… see street artists at work in Montmartre… and visit Notre Dame Cathedral, from which Quasimodo gazed out over Paris in The Hunchback of Notre Dame, and a "living" witness to over seven centuries of Paris' history.
$4,590 pp dbl
Cowboy Country
It's time to hit the trail for a Western adventure … the ultimate family South Dakota and Wyoming vacation. The first pioneers had to raft down wilderness rivers, just like you will when you explore the Snake River. You'll have a chance to look for beaver, elk, bison and more as you travel to Yellowstone National Park, where Old Faithful shoots its plume of steam skyward every hour – and you'll be staying in a lodge just steps away! Nothing says "Wild West" like Buffalo Bill and a buckin' bronco rodeo; learn more about them when you spend the night in historic Cody. Live the life of a cowboy by day at the TA Guest Ranch in Wyoming, site of a Johnson County War shootout, and by night with a stay at The Ranch at Ucross, a real dude ranch up in the Bighorn Mountains. Everything is larger than life in the West – especially Crazy Horse Memorial and Mt. Rushmore in South Dakota's Black Hills, where the faces of four former presidents are sculpted in stone – and the purple mountains' majesty of the Tetons, where you'll enjoy a two-night stay in a classic western lodge!
$3,290 Pp Dbl
Costa Rica: Jungles & Rainforest
Life is pretty colorful on a Costa Rica vacation, where even butterflies like the electric-blue morpho make visitors gape in awe. More than 850 different species of birds make their homes here, from emerald-green parrots, scarlet macaws and bright-billed "flying banana" toucans to purple-throated hummingbirds, orange-bellied trogons, and red and green plumed quetzals. Green turtles and iguanas, red frogs and white-faced monkeys are also a big draw too, as you'll find out when you explore tropical rainforests and jungles on a rafting trip and a nature hike during overnight stays in riverfront lodges. Cruise on a lake overshadowed by a "restless" volcano. Want to get the ultimate hands-on Costa Rica vacation experience? Take a sky-tram ride or a zip-line adventure through the rainforest and learn all about living in Costa Rica when you visit an organic pineapple plantation, and see – as well as taste – how the cacao fruit is transformed into chocolate. And the best part – share it all with your family!
$2,490 pp dbl (June – Aug) | Holiday departure $2,890 pp dbl
Get more information about these trips and request information on the Tauck Bridges website.
Get expert tips and advice on Family Adventure Travel in the Smart Parents Guide to Family Adventure Vacations.
Ciao Bambino! is a leading family travel brand and global family travel planning website featuring curated family-friendly hotel reviews, an award-winning family travel blog offering tips, news, and narratives related to traveling with kids of all ages, and a comprehensive Family Vacation Consulting service. Get more information on CiaoBambino.com.