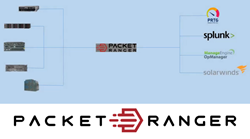 "Our customers have been asking for a more secure, intelligent, and faster UDP packet director for some time and we are delighted to be able to deliver PacketRanger 1.0 to address our customer's needs." Tavve CEO, Doug Austin
RESEARCH TRIANGLE PARK, N.C. (PRWEB) October 09, 2019
Tavve Software Company, a cybersecurity software company and developer of the ZoneRanger™, is proud to introduce the PacketRanger 1.0 smart UDP packet director to their enterprise-class line of network appliances.
PacketRanger 1.0 simplifies the collection and distribution of network and security data by providing a single destination for all of your UDP traffic including Syslog, NetFlow, sFlow, IPFIX, SNMP Traps, as well as generic UDP packets. With input speeds up to 50,000 pkts/sec and output speeds in excess of 200,000 pkts/sec to an unlimited number of destinations and a high availability capability, PacketRanger 1.0 is an excellent fit for even the largest data centers.
PacketRanger 1.0 provides a comprehensive set of forwarding and filtering rules allowing you to send your management applications only the data they require, resulting in significant reductions in network bandwidth and usage based recurring costs.
PacketRanger 1.0 is available as a 1U rack-mounted or as a virtual appliance and licensing options for small networks up to the largest corporate and government organizations. PacketRanger 1.0 can be configured for redundancy to ensure high availability when needed.