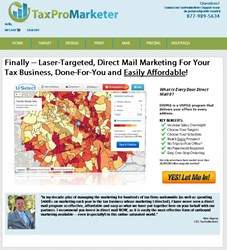 You can literally 'point and click' where you want your mail delivered.
Glen Allen, VA (PRWEB) January 15, 2014
Taradel LLC, the country's leading provider of turnkey Every Door Direct Mail® solutions, announced today a partnership with TaxProMarketer, which enables tax and accounting firms to effortlessly target and launch direct mail campaigns anywhere in the U.S.
The announcement coincides with the launch of a new self-service website, TaxProDirectMail.com, which makes it easier and more affordable than ever for tax firms to target local households, choose a design template, and mail postcards or flyers via the low-cost Every Door Direct Mail® service.
"Now any tax or accounting business can use direct mail to drive sales without breaking the bank," says Chris Barr, director of marketing for perennial Inc. 5000 company Taradel LLC.
"The technology built into the TaxProMarketer website enables users to enter a street address, and then target postal routes by distance, household income, age, and more. You can literally 'point and click' where you want your mail delivered," added Barr.
The early reviews from tax and accounting firms indicate that the partnership is poised to become a sweeping success. Laura Hanlon, of Hanlon & Associates CPA, rated the design quality and overall user experience a ten out of ten. Another firm, Wilson Rogers & Company Inc., praised the website and service. "Between the design templates and assistance supplied by the design team, the experience was exactly what we were looking for. We will certainly use this new service again moving forward."
Nate Hagerty, Founder and CEO of TaxProMarketer, has worked with independent tax firms for more than a decade, helping to streamline marketing operations and increase returns. Hagerty has used this first-hand experience to create unique and powerful marketing collateral.
"In my decade-plus of managing tax firm marketing campaigns, with budgets that scope hundreds of thousands of dollars, I have never seen a direct mail program so effective, so affordable, and so easy as what we have put together at TaxProDirectMail.com. I recommend that all tax firms invest in direct mail, now, as it is the most effective form of outbound marketing available – especially in this online-saturated world," remarked Mr. Hagerty.
All direct mail campaigns submitted through the partnership website are 100% all-inclusive. Each campaign includes Hagerty's free design templates, professional template customization service, full-color glossy printing, mail preparation services, all USPS® postage, and delivery to homes. There is absolutely no paperwork, delivery to the Post Office®, or experience required by the end user.
To learn more, visit http://www.TaxProDirectMail.com. The website includes a comprehensive help section, video tutorial, free design templates, and additional resources for tax and accounting firms.
About Taradel LLC and TaxProMarketer
Taradel LLC is a Virginia-based perennial Inc. 5000 company with an A+ Better Business Bureau rating. The company provides agency-quality creative, print, and direct mail services at affordable rates. TaxProMarketer is a Kansas-based marketing agency providing specialized internet marketing and direct response media services to tax and accounting firms nationwide.