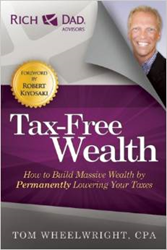 The key is never be afraid of the IRS. Just remember this one rule – never talk to the IRS. ~ Tom Wheelwright, Author, CPA, and CEO of ProVision Wealth
Tempe, Arizona (PRWEB) March 22, 2016
With the public's biggest fear being an IRS Audit versus death and public speaking, Tax-Free Wealth Author Tom Wheelwright explains why no one should be afraid of an IRS Audit. Wheelwright's 3 Rules for a Hassle-Free Tax Audit (recently featured in Forbes) can calm the nerves of millions of Americans currently preparing April 15 returns, and explain why even Republican Presidential Candidate Donald Trump should not be afraid of his current audit.
Wheelwright emphasizes the best strategy to any IRS Audit; "The key is never be afraid of the IRS. Just remember this one rule – never talk to the IRS."
With over 20 years of experience resolving audits for small business clients as the CEO of ProVision Wealth, Wheelwright emphasizes 3 Rules for an Easy, Hassle-Free Tax Audit.
1. Never talk directly to the IRS, ever.
2. CPAs should never give the IRS any more information than they require.
3. Your CPA should be nice to your IRS auditor.
Wheelwright explains that taxpayers have the right to hire professional advisors (CPAs and tax attorneys) to represent them before the IRS. Similar to how a defendant in a civil case or a criminal case in court needs a professional attorney, taxpayers need to hire a strong professional to handle their tax matters before the IRS.
Some may think Donald Trump, the sophisticated businessman and frontrunner for the Republican Party nomination for President of the United States, is afraid of an IRS audit because he's stated publicly that he can't release his tax returns because they are under audit.
In contrast, Tom Wheelwright believes that Mr. Trump is really saying he doesn't WANT to release his tax returns while under an audit. Wheelwright expands, "There is no IRS rule that says you can't show your tax returns to someone else (like the public) while you are under audit. An audit is not a criminal investigation, even though it may seem that way at times. No, an audit is simply a review by the government of your tax filings to see if they agree with the way you reported your income, deductions and credits."
Wheelwright believes that it is more likely that Mr. Trump may be afraid that people will second-guess the way his income is reported or question his deductions or credits because of the complexities. Wheelwright adds, "It's highly unlikely that Mr. Trump is afraid of an IRS audit. As one of the wealthiest people in the world, Mr. Trump likely has a very sophisticated team of CPAs and tax attorneys to handle the IRS."
Based on decades of experience, Wheelwright feels the IRS is not the "kinder, gentler" IRS that existed under the first President Bush. Wheelwright expands, "The current IRS has a tendency to take harsh positions against taxpayers and push for results that no taxpayer would consider fair. However, the level of professional hired by the IRS in the past few years has gone down considerably. So Mr. Trump's tax advisors should easily handle the audit of his tax returns."
Wheelwright adds that the good news is that the best students do not work for the IRS. He expands, "Remember that no A student goes to work for the IRS right out of school. And while there are experienced IRS auditors, many of them have recently retired, and there have been budget cuts. As a result, the IRS is now hiring inexperienced auditors to take their place. The vast difference in education and experience between an experienced CPA, for example, and a new IRS auditor gives the taxpayer a huge advantage."
As many dread the idea of an IRS Audit, Tom Wheelwright gives these encouraging words, "Just remember to always hire a competent professional to handle any matter before the IRS. Even a simple phone call to the IRS must be done by your CPA." And while the IRS is currently answering less than 40% of phone calls from taxpayers, it answers 100% of phone calls from tax professionals.
Media Contact
Liz Kelly, 310-987-7207
About
Tom Wheelwright is a leading tax and wealth expert, Best-Selling Author (Tax-Free Wealth), CPA, CEO of ProVision Wealth. Tom is best known for making taxes "fun, easy and understandable", and specializes in helping entrepreneurs and investors build wealth through practical and strategic ways that permanently reduce taxes. As a Rich Dad Advisor to Robert Kiyosaki ("Rich Dad Poor Dad"), Tom frequently speaks at Rich Dad conferences worldwide. His work has been featured in Forbes, Accounting Today, ABC News Radio, the Real Estate Guys Radio Show, Money Radio 1510 Business for Breakfast, AZTV and many more media. http://taxfreewealthadvisor.com