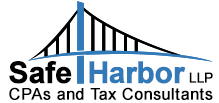 Education is an important part of our mission as a CPA firm.
San Francisco, CA (PRWEB) October 07, 2013
Safe Harbor LLP, a top San Francisco accounting firm at http://www.safeharborcpa.com/, is proud to announce the publication of their latest tax bulletin for individuals and small business owners. The firm shares this information first with clients and then posts it for the public on its website.
"Education is an important part of our mission as a CPA firm," explained Chun Wong, Managing Partner at Safe Harbor LLP. "Our October tax bulletin focuses on tax tips regarding married couples as well as complexities in the 529 plans for savings for college."
To read the latest tax bulletin, go to http://www.safeharborcpa.com/san-francisco-tax-and-accounting-news-october-client-bulletin/ where one can download it in full in Adobe PDF format.
Tax Bulletin Contents - Information for San Francisco Individuals and Businesses
With the rejection of the Defense of Marriage Act (DOMA), the Supreme Court has allowed same-sex marriages to be recognized by the Federal government. Tax planning is part of marriage, and the October bulletin focuses on tax tips and strategies for married couples. Another common area of opportunity and confusion is the 529 plan area. 529 plans are commonly used to save for college. Again, wise tax planning can minimize tax liabilities and maximize one's ability to save for college for a child or loved-one. Posting the bulletin online is just one service that Safe Harbor LLP does as a top San Francisco accounting firm.
IRS Circular 230 Notice
The Internal Revenue Service requires Safe Harbor LLP to inform the reader that any tax advice contained in this correspondence cannot be used for the purpose of avoiding penalties under the Internal Revenue Code or for promoting, marketing or recommending to another party any transaction or matter addressed.
About Safe Harbor LLP – a Professional CPA Firm in San Francisco
Safe Harbor LLP is a CPA firm that specializes in accounting and tax services for individuals and businesses throughout the San Francisco Bay Area and greater California. Safe Harbor CPAs helps both individuals and businesses with tax preparation, IRS audit defense, and audited financial statements. The firm prides itself on friendly yet professional service and utilizes state-of-the-art Internet technology to provide quality customer service.
Safe Harbor CPA
http://www.safeharborcpa.com
Tel. 415.742.4249