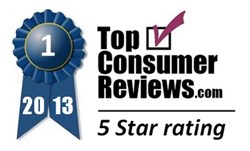 We're excited to receive TopConsumerReviews.com's 5-star rating [...] thank you!
Overland Park, KS (PRWEB) December 09, 2013
TopConsumerReviews.com recently awarded their highest five-star rating to CuraDebt, an industry leader in tax relief services.
"We're excited to receive TopConsumerReviews.com's 5-star rating," said Eric Pemper, President of CuraDebt. "At CuraDebt we not only help our customers effectively resolve burdening debt, but we professionally assist those that are behind on tax payments. We work directly with the IRS so that you don't have to. Our tax counselors are here to help with a free consultation and advice on next steps for resolution. This type of recognition, from TopConsumerReviews.com, is a wonderful validation of our success – thank you!"
For those that have gotten behind on their annual tax payments and are battling liens, garnishments and threatening letters, tax relief companies can provide an effective solution. Tax Relief companies work to resolve tax debts by using a variety of methods to manage the IRS and various tax authorities. It's important to consider the history and reputation of any tax relief company that is considered. The fees of each respective service can vary greatly, but an honest tax relief company will provide that information upfront.
"CuraDebt received a 5-star rating in our review of top tax relief companies," explained Brian Dolezal, of TopConsumerReviews.com. "Their reputation, history of success, customer friendly model, and free consultation pushed them to the top of our list of tax relief companies. CuraDebt effectively reviews each individual customer's needs before making a recommendation. We were also impressed with their American Fair Credit Council membership and friendly customer service staff. CuraDebt is a great place to start for people overwhelmed with outstanding tax debt."
To find out more about CuraDebt and other tax relief services, including reviews and comparison rankings, please visit the Tax Relief category of TopConsumerReviews.com at http://www.topconsumerreviews.com/tax-relief/.
About CuraDebt
Established in 2000, CuraDebt Systems LLC. was founded by a diverse group of financial industry professionals for the purpose of helping individuals and businesses in debt situations stay afloat. Today, CuraDebt is one of the most experienced and trusted names in the debt relief industry providing free debt consultations, debt consolidation, tax relief, debt settlement, and other services to hundreds of thousands of clients throughout the United States.
About TopConsumerReviews.com
TopConsumerReviews.com is a leading provider of independent reviews and rankings of hundreds of consumer products and services. From tax relief to mortgage refinance and credit repair, TopConsumerReviews.com delivers in-depth product evaluations in order to make purchasing decisions easier.