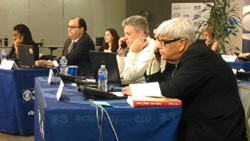 PHILADELPHIA (PRWEB) February 10, 2015
During the month of February, the Pennsylvania Institute of Certified Public Accountants (PICPA) is offering "Tax Chat Tuesdays," a free online instant messaging chat staffed by its CPA members to provide general advice and guidance to taxpayers. The tax chat service will be available every Tuesday in February from 4 p.m. to 7 p.m. at http://www.picpa.org.
This year's tax season will prove to be one of the most challenging in recent memory. One reason is the new health care insurance reporting requirement from the Affordable Care Act. Another is that the IRS will have fewer resources to offer this year because of budget cuts. Longer wait times are expected for those who call in to the IRS with questions. Tax payers are encouraged to take advantage of the expertise PICPA members have to offer so they can hopefully avoid fines or an unnecessarily high tax bill.
The first chat took place Tuesday, Feb. 3. PICPA members fielded questions on a wide range of topics, including parents questioning the filing requirements for children with part-time summer jobs and senior citizens having questions about reporting retirement distributions.
To make tax preparation less painful, the PICPA developed a checklist to help gather the proper documentation and a number of other resources on its tax help center (http://www.picpa.org/taxhelp). Some items available on PICPA's Tax Help page include informative videos on topics related to changes in both federal and state tax law, ID theft, home office deductions, and how to avoid filing mistakes, as well as articles and tips for both individuals and small-business owners.
###
For more information about Tax Chat Tuesdays or to interview a local CPA, contact Maureen Renzi at mrenzi(at)picpa.org or (215) 972-6185.
The Pennsylvania Institute of Certified Public Accountants (PICPA) is a premiere statewide association of more than 22,000 members working in public accounting, industry, government, and education. Founded in 1897, the PICPA is the second-oldest and fourth-largest state CPA organization in the United States. To learn more about the PICPA and find resources and story ideas, visit our Press Room at http://www.picpa.org/pressroom.