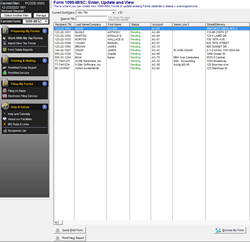 The experts at TaxCalibur are responsible for filing over 10% of the annual information returns in the United States.
Calabasas, California (PRWEB) November 13, 2013
TaxCalibur 2013, The Software of Kings, is now available for a free demo download at TaxCalibur.com. TaxCalibur is the premier W-2 Software / 1099 Software for small businesses and CPA's looking to print, mail, & e-file 2013 information returns.
TaxCalibur is an easy-to-use software application that allows customers to import data from Excel or to manually enter recipient information directly onto the IRS/SSA tax form. Furthermore, TaxCalibur supports user-friendly navigation between filing entities and tax form types. Simply select a filer and tax form type, i.e 1099-MISC, and browse through the list of recipients. From there, software users can quickly print recipient tax forms to blank paper, to IRS/SSA Red Copy A's, or to PDF.
Don't know the proper way to file taxes or are worried about making a filing related mistake when submitting to the IRS/SSA? The experts at TaxCalibur can print, mail, & e-file 1099's / W-2's on the customer's behalf for a small fee.
The knights of TaxCalibur also offer protection in the form of Bulk TIN Matching services. Customers can avoid costly IRS/SSA penalties of up to $50 per TIN/Name mismatch by utilizing the export and submit utility for creating and formatting ready to use files to the TaxCalibur Service Bureau.
Please visit https://www.taxcalibur.com/ for a complete description of the available TaxCalibur features and supported form types. TaxCalibur offers free, and unlimited, customer support; including weekends in January, when it is needed the most.
About
TaxCalibur was created by tax experts that have been involved with the information return filing business for over 20 years and are responsible for filing over 10% of the information returns filed in the United States each year.