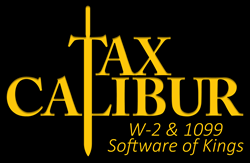 Don't forget to use the Christmas discount coupon "MerryChristmas!" when purchasing TaxCalibur 2013.
Los Angeles, California (PRWEB) December 12, 2013
TaxCalibur is user-friendly W-2 software and 1099 Software that makes printing, mailing, and filing information returns easy. The professionals behind the TaxCalibur software have been in the business for over 20 years and seamlessly transfer their knowledge and skill into the TaxCalibur software.
Interested businesses can download a free trial of the TaxCalibur software at http://www.taxcalibur.com and unlock the full version, without losing any data, when ready to purchase. TaxCalibur also provides customers with convenient and time-saving features that only experts in the field of business tax filing would understand to include in their product. Examples of such features are the ability to roll-forward filer and recipient data from previous years, the ability to import forms in one file rather than to individually enter them, and the option to utilize print, mail, and e-file services.
For those interested in purchasing TaxCalibur, be sure to utilize their Christmas discount which only lasts until January 1, 2014.
Coupon Code: MerryChristmas!
To find an exhaustive list of features, businesses can visit the TaxCalibur website. However, the abridged list that follows can help demonstrate whether or not the W-2 software and 1099 software would benefit existing businesses.
TaxCalibur features include: printing to blank paper or pre-printed forms, PDF generation of tax forms, rolling forward prior year tax data, printing & mailing service, secure electronic filing service, importing data from Excel, bulk TIN/SSN matching service, and support for 1098, 1098-T, 1099-B, 1099-DIV, 1099-INT, 1099-MISC, 1099-PATR, 1099-S, 5498, W-2, and W-2G form types.
ABOUT TAXCALIBUR
TaxCalibur, https://www.taxcalibur.com/, is a market-leading desktop software module for printing, mailing, and e-filing (electronic filing) W-2 and 1099 information returns. The professionals behind the TaxCalibur software and services are responsible for filing over 10% of the annual filings in the United States each year and provide a truly unmatched software for its price.