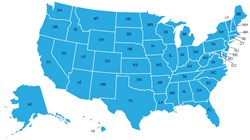 Verify A CPA License Quickly!
La Jolla, California (PRWEB) September 04, 2013
Anyone who needs to verify a CPA License or status can do so easily with the "Verify A CPA License" interactive map released by TaxConnections Worldwide Directory of Tax Professionals. TaxConnections is an authority site of tax professionals from countries all around the world. Given Google's announcement that they are favoring niche authority sites, TaxConnections growing community of tax professional members is growing fast!
The ability to verify the license of a CPA is important to consumers of tax services, corporations and public accounting firms who want to hire them, and to the CPA who simply needs to check the status of their CPA License. There are special requirements that each state has to keep a license active. These may include paying the license fee, and meeting the required Continuing Professional Education courses for a CPA License. Some CPAs may simply choose to keep their status inactive for these reasons. This is a wonderful resource to learn who worked hard to earn their CPA, active or inactive.
TaxConnections provides this interactive map to quickly verify a CPA License. TaxConnections grants permission for anyone to use the map on their own website as a valuable resource. We are happy to share it with you simply by going to http://www.taxconnections.com/resources/verify_licenses where you will see the code that enables you to take the map and place it on your own site.
TaxConnections Worldwide Directory of Tax Professionals is a niche authority site of tax experts from more than 70 countries around the world. Visit site at http://www.taxconnections.com.