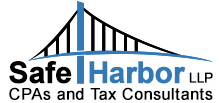 Anyone who lives inside an industry becomes quite knowledgeable about specific terms.
San Francisco, CA (PRWEB) January 29, 2016
Safe Harbor LLP, a top San Francisco accounting firm with seasoned accountants, is proud to announce the launch of a new informational page on accounting just in time for the busy 2016 tax season. The general public is often confused about the terms 'CPA' vs. 'Accountant,' and the new informational page speaks to this conflation.
"Anyone who lives inside an industry becomes quite knowledgeable about specific terms," explained Chun Wong, CPA, managing partner at Safe Harbor LLP. "Accordingly, we may use the term 'CPA' and 'Accountant' interchangeably but the general public may think of these as two different things. Our new informational page reaches out to those searching for accountants or accounting firms in San Francisco, California."
To view the newly launched informational page on accounting, please visit http://www.safeharborcpa.com/best-accounting-firm/. There, interested parties can learn about the firm's services plus review a short discussion on the term 'CPA' vs. 'Accountant.'
Being the Best CPA Firm (Accounting Firm) in San Francisco, Whatever it is Called
The reality of the average busy consumer, be he or she a business person or a high income individual, is that they have a need such as getting a tax return filed or updating their bookkeeping and accounting records. In today's Internet economy, they may turn first to quick searches on search engines, and may not be that savvy about the differences in technical terms such as LLC vs. S corporation, or S corporation vs. C corporation. Even relatively simple terms such as accountant vs. CPA, or accounting firm vs. CPA firm, or national firm vs. boutique firm can be baffling to the uninitiated. Safe Harbor LLP has taken the lead in San Francisco in providing information via its website and lively blog to help busy end users. In some situations, these are esoteric discussions about issues such as expatriate taxation policies, while in others these are basic issues such as how to select the best CPA or accounting firm for one's needs. Regardless, the purposes is to inform and educate.
About Safe Harbor LLP – a San Francisco CPA Firm
Safe Harbor LLP is a CPA firm that specializes in accounting and tax services for individuals and businesses throughout the San Francisco Bay Area and greater California. Safe Harbor CPAs helps both individuals and businesses with tax preparation, IRS audit defense, and audited financial statements. The firm prides itself on friendly yet professional service and utilizes state-of-the-art Internet technology to provide quality customer service.
Safe Harbor CPA
http://www.safeharborcpa.com
Tel. 415.742.4249