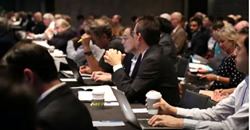 Hundreds of tax lien professionals gather during this three day event for top level education and networking opportunities.
Fort Lauderdale, FL (PRWEB) February 25, 2016
In America, $16.9 billion of property taxes go unpaid annually. At the largest gathering of tax lien professionals this problem and solutions will be addressed. Speakers from public and private sectors will cover topics ranging from Antitrust training to Tax Lien Mathematics.
The conference lead sponsors are MTAG Services and Capital One. Keynote speakers include Elliot Eisenberg, Ph.D who will discuss economics and the housing sector and Gerry O'Brion who will teach attendees how to build a brand on any budget. At one of the receptions, attendees will participate in a charity casino night with proceeds going to Habitat for Humanity.
"The biggest news coming from the NTLA is the implementation of a certification program," announced Executive Director, Brad Westover.
Tax lien practitioners can now earn the title of "Certified Tax Lien Professional" through experience, education and testing. Westover will also be announcing the forthcoming launch of "NTLA University" which is a course designed to thoroughly educate tax lien professionals on all aspects of the tax lien industry. Over 80 percent of all tax liens sold in the United States are sold to members of the NTLA.
The National Tax Lien Association was incorporated in 1997 and is the largest nonprofit organization of its kind, providing its members with professional and educational resources and representing their collective interests. The NTLA is dedicated to establishing positive relationships with government officials involved in the tax lien process, recognizing the significant contributions tax lien investors provide to local government infrastructure and budgeting, and maintaining a code of ethics and standards for the tax lien industry. Tax lien professionals help fund public services each year by purchasing billions of dollars in delinquent property taxes from local governments in exchange for a modest return on their investment.
The association can be reached via its website at http://www.ntla.org.