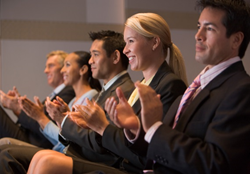 Taylor provided the most knowledgeable speakers in the property management industry, giving an overview of Association requirements and responsibilities.
(PRWEB) May 08, 2014
Taylor Management Company, a leading Property Management firm in New Jersey with offices in Whippany, Secaucus and Somerset, held an educational training day for their Association Board member clients, on Saturday, April 5th, at Fiddler's Country Club in Basking Ridge. Taylor Management Company manages over 40,000 homes in the state of New Jersey, in 165 communities.
Taylor Management provided a five (5) hour program to over 200 of their Board members addressing some of the most requested and essential information that Board members require to run a successful Association.
Community Association neighborhoods are governed by a volunteer group of homeowners, from their own respective communities, who have been elected by other homeowners in their Association. These Board members are then responsible for the overall maintenance, management and financial status of the association. They work with hired professionals, such as a management company, attorney, accountant, engineer, etc. The Board makes all the final decisions in relation to any of the association's business matters in conjunction with recommendations and guidance from their professionals. Too often though, many board members join the board but find they are unprepared and unaware of all the responsibilities/obligations that they are required to uphold.
Taylor's approach to their Board Training Day was to provide these Board members with a basic general overview of their role as board members, their fiduciary responsibilities, the role of their management company and their professionals, and the significance of determining a Policy Governance structure. Mr. Paul Santoriello, President of Taylor Management Company, kicked off the day focusing on these aspects of community association governance.
The panel of five (5) Association Attorneys also contributed to the event. Donna Shahrabani, a partner with Buckalew, Frizzell & Crevina LLP, spoke on Governing Documents, providing advice that every board member needs to be aware of. Mary Barrett, a shareholder of Stark & Stark, shared the importance and requirement for Policies/Resolutions and Amendments in Associations. David Ramsey, a partner from Becker & Poliakoff, instructed those in attendance on the legal obligations of Alternate Dispute Resolution (ADR) and the necessity of establishing rules and regulations. Ronald Perl, Esq. a partner with Hill Wallack, conveyed the requirements for holding meetings and taking minutes and the proper procedure for both. Fran McGovern, principal of McGovern Legal Services, LLC addressed how to protect associations in relation to the mandatory insurance requirements and understanding the coverage's involved.
Bruce Noel, CFO and Dan Manning, Vice President of Financial Operations at Taylor provided a general overview of protecting association assets, how to read their monthly financial reports provided by Taylor accounting, the budget process, the need for a reserve account and the reserve study and keeping the Association fiscally sound. Dan Manning also provided an introductory summary of Taylor's Accounts Payable web based invoice management system.
"The seminar was beneficial not only due to its content but also for the ability to meet and interact with other Board members"
Peggy Kavanaugh
VP, Stone Run II
"Taylor provided the most knowledgeable speakers in the property management industry, giving an overview of Association requirements and responsibilities. I look forward to more opportunities to have, targeted discussions to stay informed and further embellish our communities with the guidance of Taylor."
Carol B Guttschall, President
Four Oaks, Bedminster, NJ
"Every Board member should attend a session similar to this as soon after becoming a board member as possible. I certainly hope Taylor will consider having future sessions similar to this one as through this Taylor brings a true "added value" to the Management Company/Association relationship".
Richard Kennedy
Four Seasons at Readington
"Taylor Management Company's first Board Training Day was received and embraced well by the attendees. The education initiative provided association Board Members with the fundamentals needed to effectively build their knowledge and how to productively manage and shape their future success as community association volunteers. Overall, the Board Training day was triumphant for most of those in attendance."
For additional information on Taylor Management Company, please visit their website at http://www.taylormgt.com or contact them at 973-267-9000.
For more information, contact Jeffrey Logan
Director of Business Development and Client Services
Taylor Management Company, AAMC & AMO
Corporate Office:
80 South Jefferson Road, 2nd Floor
Whippany, NJ 07981
973.267.9000 ext. 357
973.267.0943 fax
jlogan (at) taylormgt (dot) com