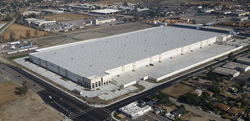 "Taylored Services continually invests in our systems, technology and facility infrastructure to support the growing and time critical direct-to-consumer needs of our customers business," says Brian Southwell, Vice President of Business Development.
ISELIN, N.J. (PRWEB) January 02, 2019
Taylored Services, LLC has been named a Multichannel Merchant Top 3PL for 2019, and included it in a listing of leading third-party logistics providers selected by the editors of Multichannel Merchant.
Given the explosion of ecommerce and the increasing number of 3PLs in the marketplace, Multichannel Merchant has created this unique resource to vet 3PL providers as a value-added service for its audience. The online resource is a searchable directory for merchants looking for a qualified 3PL.
"3PLs have become an increasingly important resource for ecommerce and direct-to-customer merchants who don't have the capital to invest in their own distribution networks," said Mike O'Brien, Senior Content Manager of Multichannel Merchant. "This is especially critical due to the ongoing lack of available commercial space for such facilities. We developed our Top 3PL listing as a valuable resource for merchants. Each company on the list has been selected based on its industry experience, range of capabilities and ability to handle high order flow during peak periods."
The company profiles in the MCM Top 3PL listing include vital information to help merchants in their selection process, including key capabilities, average annual client order volume, top merchandise categories handled, facility locations and more.
"As our customers grow their online, direct-to-consumer business, Taylored Services continually adapts to this changing reality. This includes investment in systems and technology, facility layouts, and customer service to support their speed to market needs," says Brian Southwell, Vice President of Business Development.
You can view the complete MCM Top 3PL listing here.
About Multichannel Merchant
Multichannel Merchant reaches key decision makers responsible for ecommerce, management, marketing and operations at companies that sell merchandise through multiple channels — including ecommerce, mobile, social, and catalog. Multichannel Merchant delivers original research, as well as in-depth analysis of trends and best practices, news, tactical/how-to, executive summaries, technology and supplier comparisons, tip sheets and resource information to help companies sell & deliver products wherever and whenever the customer wants them – at home, work, store or other locations.
About Taylored Services
Taylored Fulfillment Services. Since our humble beginnings in New Jersey in 1992, Taylored Services has grown to become a national leader in distribution, fulfillment and warehousing. We have achieved this status by providing the services our clients need when and where they need them.
Our distribution centers are located near the nation's busiest ports of Los Angeles, Long Beach and New York. We work with a diversified client base including wholesalers, manufacturers and retailers and our expertise extends to multiple brand and accessory categories.
Taylored Services continually invests in systems and technology to insure that we stay ahead of the requirements placed on our customers. Our warehouse management systems are ready to receive orders from the industry's most powerful ecommerce platforms. By leveraging a unique combination of people and technology, our customized approach accurately aligns your organization's multi-channel support with the high expectations of today's marketplace.
Taylored Services is a strategic eCommerce logistics partner that has embraced the need to satisfy our clients OMNI-Channel fulfillment requirements. In today's marketplace, the direct to consumer experience is a growing and time critical component of our clients business. Whether eCommerce is your business, or is just a small, growing piece of your brand, Taylored Services is ready to take your business to the next level.
http://www.tayloredservices.com